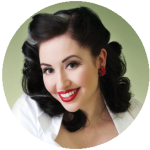 I'm Candice DeVille, Vintage Style expert and founder of Vintage Current.
Vintage style and glamour has been a part of my life for 26 years. First as a young fashion rebel; today as a business woman, mother and pinup model. I'm a regular contributor to vintage publications and events, conducting workshops and seminars for thousands of fellow vintage aficionados, the world over. I am passionate about our community and helping you grow into your own style icon.
Vintage Current is here to help you liberate your style, live boldly and fall in LOVE with who you are!