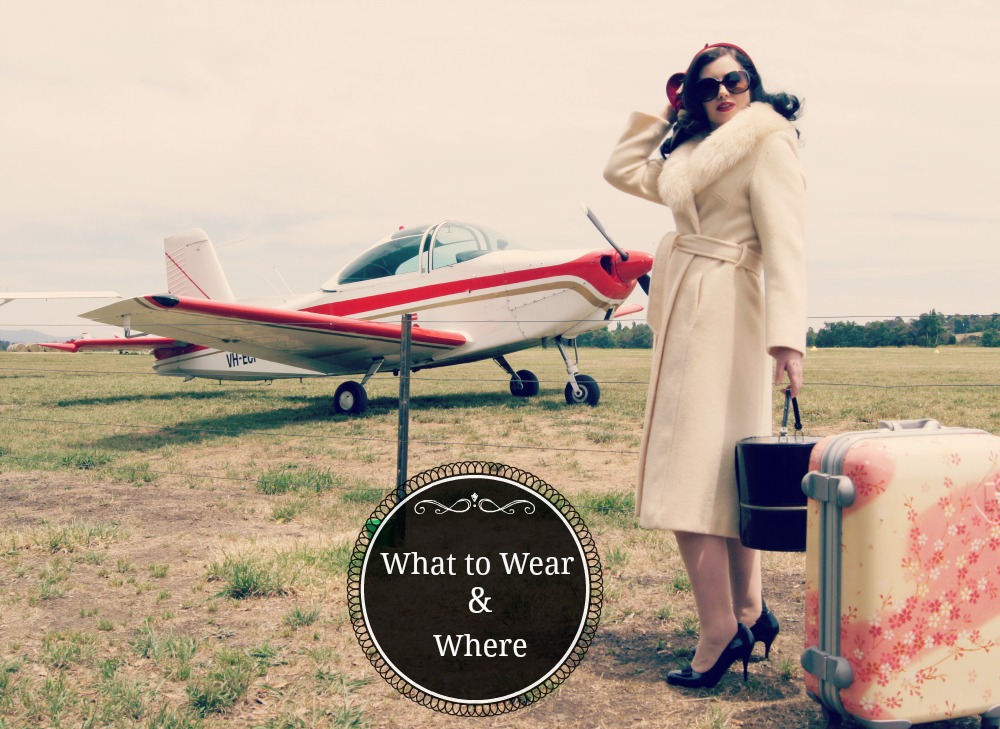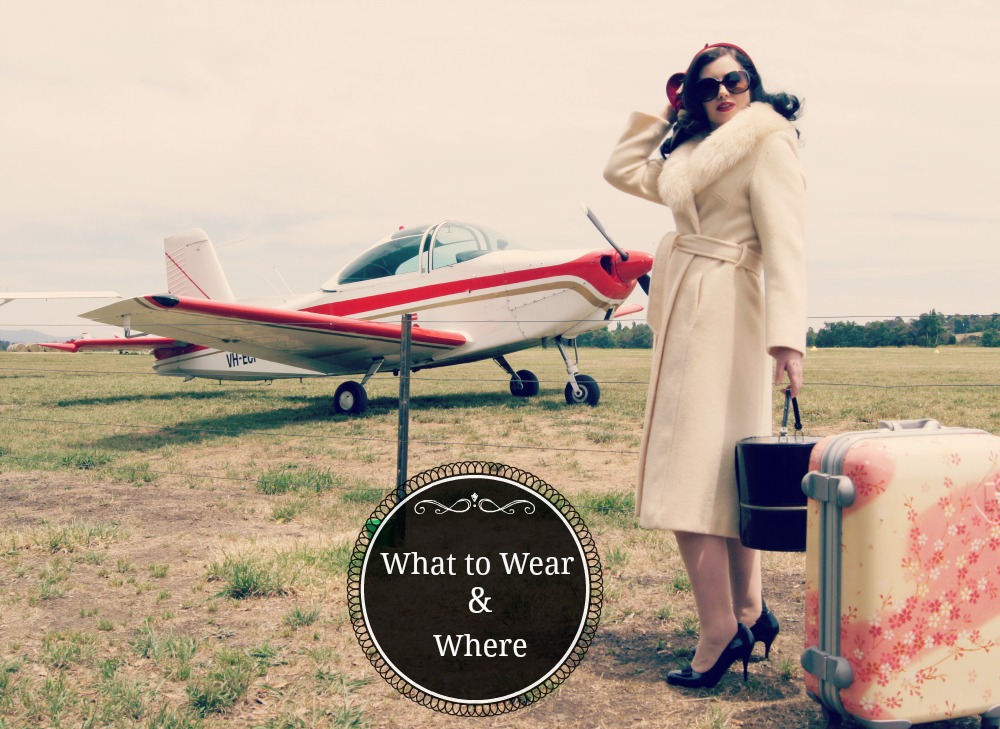 "What should I wear?!?" is by far the biggest question we're hearing as we countdown to the exciting Ballarat Heritage Weekend.
While some vintage stalwarts and BHW regulars have had their looks ready since last year, we can all benefit from some style guidance and suggestions for the perfectly primped looks to pair with the wide range of events.
Plus, there's no specific era or niche for this event, which makes it such a delight to both dress for and people watch! You can take your cues from all manner of vintage and create a look and style that's entirely your own.
Since dressing up is one of my favorite pastimes — and our mission for our Vintage Current Fashion Fair — I want to share my personal recommendations and style/event pairings to inspire your ensembles.
Enjoy these vintage styling tips and templates, as well as our new #VCFF vintage styling contest (details below). I can't wait to see you rocking your own classic concoctions around this wonderful heritage weekend!
Daytime Style Tips
Vintage Current Fashion Fair + Fashion Parades = The Serious Shopper 
Your dresses or tops should be button up or zip up, nothing should go on over the head. This gives you the ability to change quickly without worrying about messing up your hair or makeup (or the garments).
To handle cold mornings and nights but beautiful clear days, use simple layers. Opaque tights are one of my "go anywhere" secrets; they can be easily changed out for sheer stockings during the day and stashed away in your handbag.
With your accessories, keep it simple: scarves, bangles, etc., not loads of fiddly jewelry. And if you're trying on outfits, you can also tie the scarf over your hair and face to protect the garment from makeup, as well as your vintage hairdo.
Hats add a classic style and interest while dealing with any wind or chill in the air. And of course, shoes that are suitable for walking, standing and browsing are a must. Even though there's a City Circle tram to help you get from place to place, you'll have a full day on your feet (perhaps two full days)!
Keep in mind the seasonal trends that will also inspire your look: tweed, velvet, boho embroidery, perhaps a dash of this year's weekend theme … steampunk?
All of these tips, plus the examples in the style board below, will prep you for the Vintage Current Fashion Fair, where you can augment your collection and refine your look, and from there it's a short hop to check out the beautiful fashion parades hosted by Charlotte Smith in the Mechanics Institute.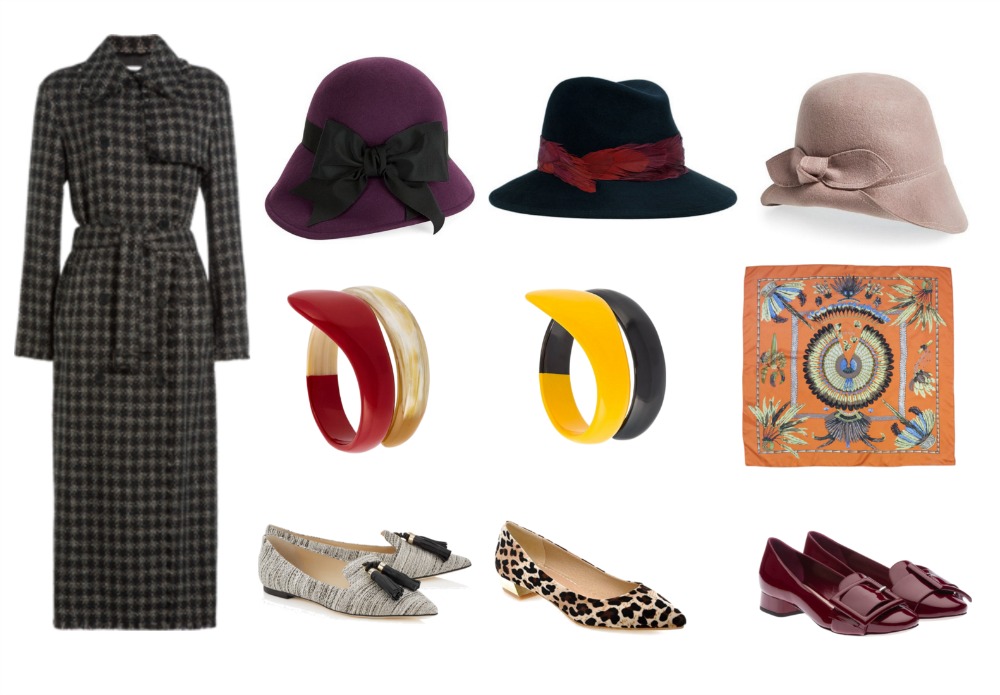 Tweed Ride + Carriage Rides = A Casual Afternoon Affair
If a leisurely bike ride, tea and scones or a late afternoon beer is on your agenda, a simply put together, casual look is in order. The Tweed Ride is a popular annual tradition, so a most excellent pair of trousers, and stylish sunglasses, are a must.
In the style board below, I've paired these wonderful slub tweed trousers with a 1950's beaded and embellished cardigan, a camel wool suit coat and a brilliant pair of reproduction lace up boots. Classy, comfortable, practical and cozy, each of these elements makes the ideal blueprint for a head-turning autumn wardrobe.
Whether you're traveling by penny farthing, horse-drawn carriage, double decker bus or the Circle Tram, you'll look sharp and feel fine while taking in the historic downtown sights and events!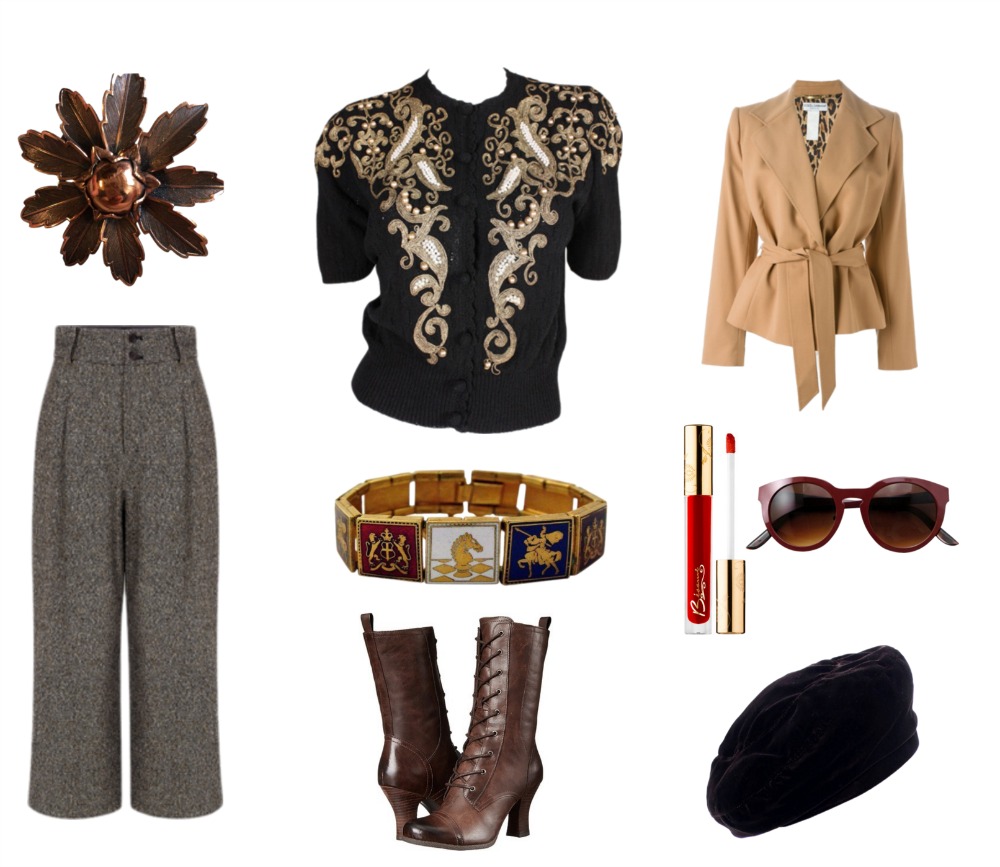 Dinner Date Style Tips
Fine Dining + Cocktails = The Smoldering Standout
Dressing for dinner is an art I'm very keen to revive. With so many stunning heritage venues to stage your dinner time debut, Ballarat is ready made to spotlight your wardrobe.
Be brave, be daring, be impressive. After dark, it's time to add more luxury, capes, longer hemlines and statement vintage jewelry.
Make sure to book your dinner engagement in advance for time to enjoy a proper old fashioned cocktail and give everyone the chance to truly appreciate your upscale ensemble.
If you're seeking recommendations, check out the style board below, and for dining ideas around Ballarat, consider the fantastic dining options we prepared earlier. As for cocktails, keep an eye out for our forthcoming post …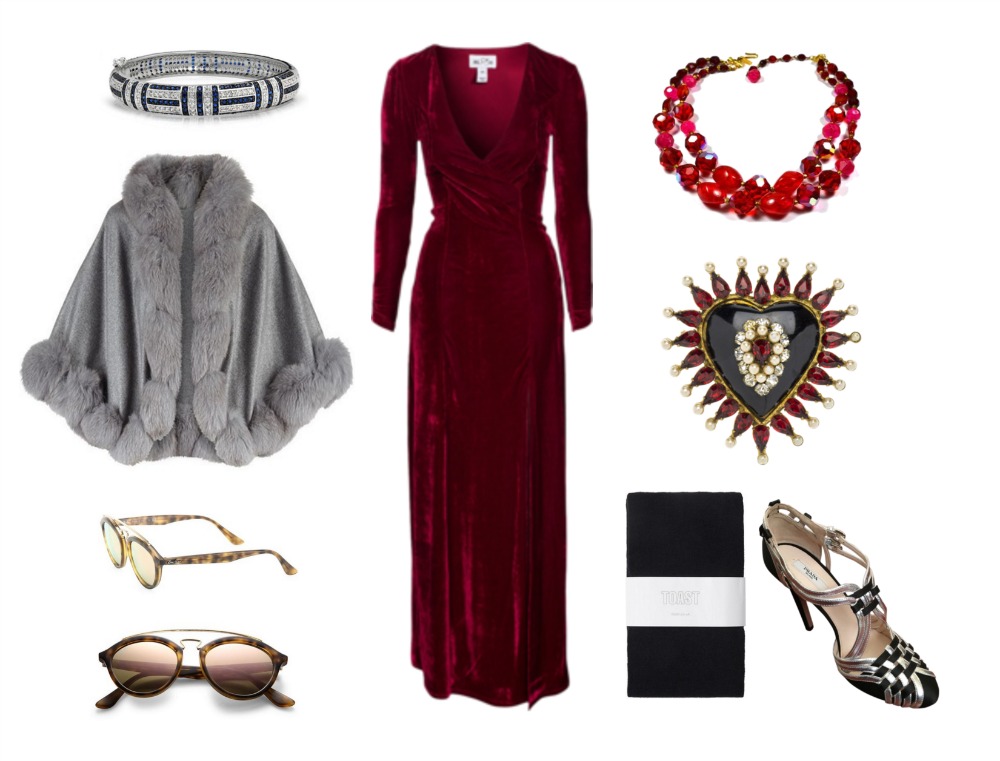 Evening Wind Down
Fireplace + Cozy Room = The Sleepy Beauty
After a big day of shopping, sightseeing and catching up with pals, having the right wind down look ready is quite a treat. I like to pack my favourite tea, a good book and a deliciously warm wrap or knit for these autumn evenings.
For an overnight stay, make sure to bring (or acquire) luxurious pajamas, a velvet robe, slippers and sleeping socks.
Other vital elements to consider include:
Wide legs pants in cashmere, jersey or even a well cut fleece.
Knit tops that reflect your style.
A wrap, shawl or pashmina.
Infinity scarf to avoid bulking up the look.
There's no good reason that your off duty look needs to forgo the vintage influence, so I've taken some familiar motifs and worked them into the easy, comfortable pieces in the style board below. These outfits and concepts will send you off for a restful night, ready to meet the morning refreshed and ready for another day of vintage style.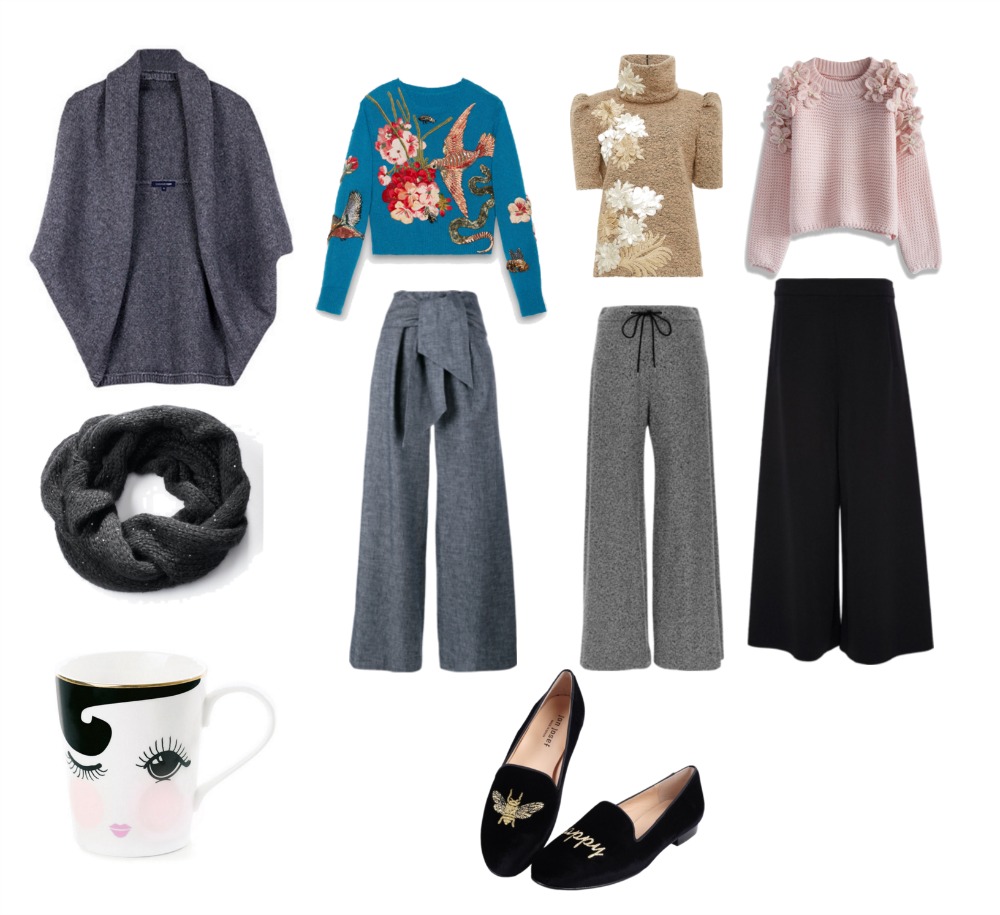 For the Gentlemen
Beard Competition + Craft Beer = The Classic Chap
Gents come into their own at this year's Ballarat Heritage Weekend, with the Beard and Moustache competition providing the perfect stage to show off their commitment to serious facial grooming, and the Hop Temple BBQ and craft beer events.
Dressing the part need not be painful (growing a handlebar moustache is not required). With a few choice accessories to reflect his personality and taste for the finer things, polishing up a winning look is a snap. Here are some ideas in the style board below to get him going down the right road …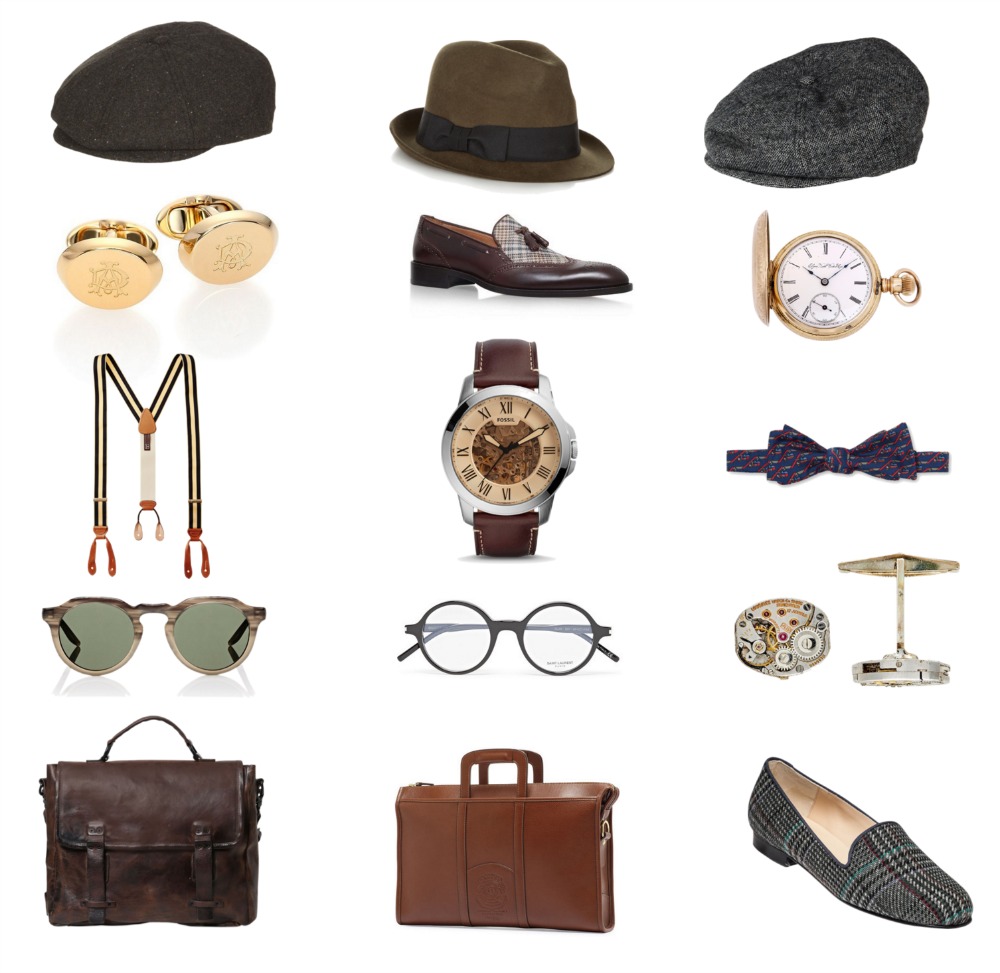 For One Lucky Winner … YOU?
Social Media + Your #VCFF Style = Personal Styling Session
Now, if you're taking all this in and worrying that your wardrobe is not up to the task, we're adding a new twist to the Vintage Current Fashion Fair …
While you can find and buy gorgeous fashions like these from our wonderful VCFF vendors, I want to ensure that your hair and makeup styling are just as on point as your wardrobe.
We've added a #VCFF Personal Styling Session Competition to the mix! 
Entering is easy — just three quick steps:
Snap a photo of your Ballarat Heritage Weekend outfit (what you're planning to wear, your dream look, or what you're wearing throughout the weekend)
Share it on Instagram or Facebook and tag @VintageCurrent (be sure to follow us!)
Include three hashtags: #VCFF #CDVStyling #BallaratHeritage
We'll select our lucky winner at random and notify them on Monday, May 9th, with all the details on how to redeem your session. Entries are open to anyone in Australia who ticks all three boxes above. Enter as often as you wish!
This special contest starts NOW and closes at midnight on Sunday, May 8, 2016. Good luck and we can't wait to see you online and/or in person at Vintage Current Fashion Fair 2016!