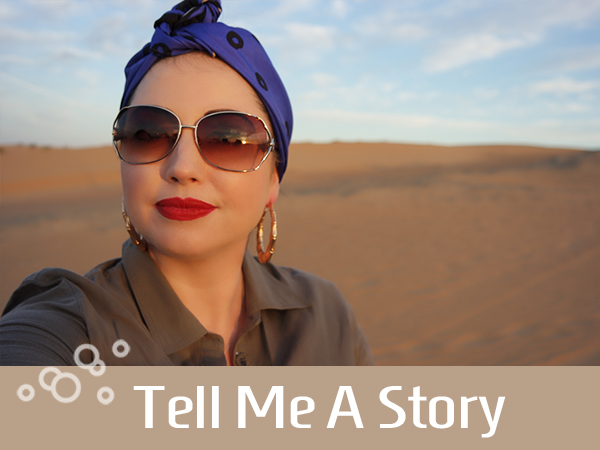 I'm not a resolution maker; I like to question myself all the time. I'm also a hoarder, a dreamer, a hedonist and an impulsive decision maker. Some of these things are good, some are not.
As a vintage lover and collector, it is so hard to let go of anything in my collection. Every piece comes with an imagined memory and is part of a romantic tale I have made up for it somewhere in my mind. Each piece of ceramic or pink poodle adds to the nostalgic landscape that requires constant dusting. Days are spent scouring shops, markets and rummaging in dusty old containers all in the name of treasure hunting. What a wonderful time it has been.
Remember I told you that when I went away on this last trip to Dubai and New York, that I had come home a different person? It was while I stood watching the sunset across the Dubai desert that a thought occurred to me.
Here I am, a vintage collector of more than twenty-five years, with closets full and shelves overflowing. Yes, I have this wonderful little blog as a visual testament to many of the beautiful finds in the last few years, but I have something that not many vintage collectors do and I have barely let it see the light.
I have the ability to tell stories.
Where fabrics may perish and lustres may fade, I know I have the untapped ability to tell the stories of these pieces, their owners and their context in words that won't grow old. I am able to tell these tales from every culture I visit, from the past to the present, each of them clothed in their unique fabrics of love, loss, adventures and bravery.
All of the things I first sought to express when I began writing this blog way back when, centred on my own experience of life and art as expressed through fashion. Of wearing on the outside the way I felt on the inside. Nothing has changed there and I continue to use style as both armour and a pair of wings. I'd just like to do more.
I want to be able to share with you all of the stories and the moments that may hold a nugget of inspiration for you, things that will help to make us all braver. From the day to day to the big life changing moments, I want to be able to share with you more of what makes this life possible for me.
I hope to give you more insights into how I see the world and how I'm able to live with confidence and freedom. Not that they are always unwavering, but they are qualities that for the most part, a prize I keep my eyes on. I'd like to share more time "behind the curtain" with you, and why I still struggle with having thirty-something towels in the closet.
None of this means I'll be changing the sorts of posts I share or all of my outfit creations; it simply means I hope to write more for you and to chat together. If you've never met me in person, you may not know how much I love a good chat, which is one of the reasons I need to write more for you. I've realised that when given the chance to speak, I can hardly stop for all the things I want to share and I should do more of that here.
So while it seems that the Internet is being over run with flashy statements, bright lights and everyone talking at you; I'd really like to avoid that noise and instead just invite you in to spend some time and share our stories. It's nice to meet you.