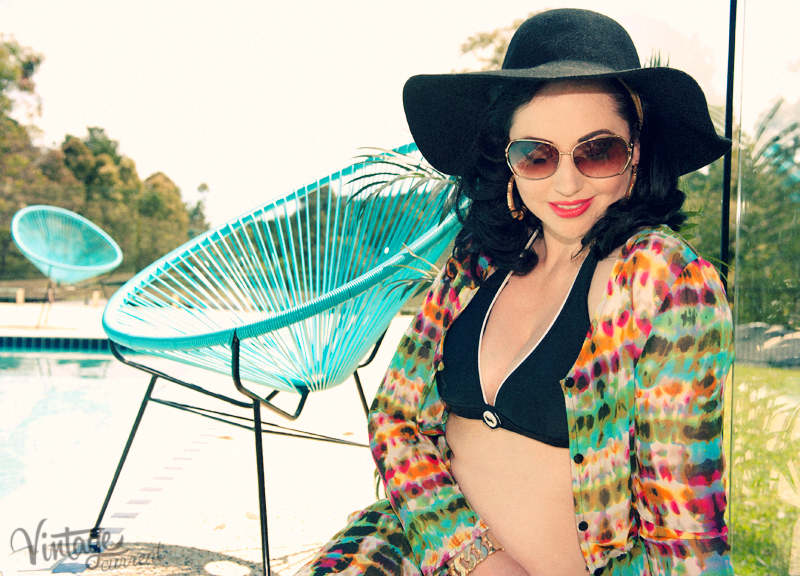 The great irony in building my amazing pool and outdoor area, is that I'm not a sunshine kind of girl. Like all we porcelain white ladies, I burn to a crisp as soon as I look at the sun, so my idea of pool side glamour is very much the over the top, not getting wet version.
This is actually a great and cunning plan, as it allows me to play with my wardrobe of things, creating all kinds of style vignettes that often mirror what I'm reading or watching at the time (American Hustle this week), then enjoy the vision of the pool from the shade until the sun dips down.
Everyday I slather myself in SPF 50+ from head to toe, whether I am planning outdoor adventures or not, I just don't like to take the risk or skin damage. Large sunglasses and huge hats feature heavily in my summer wardrobe, along with all manner of cover ups and other shade options. So while I may not be the kind of bronzed, Bond Girl who is able to emerge sun kissed from the surf; I'm the one who will mix your martini and throw you a towel from the comfort of my cabana.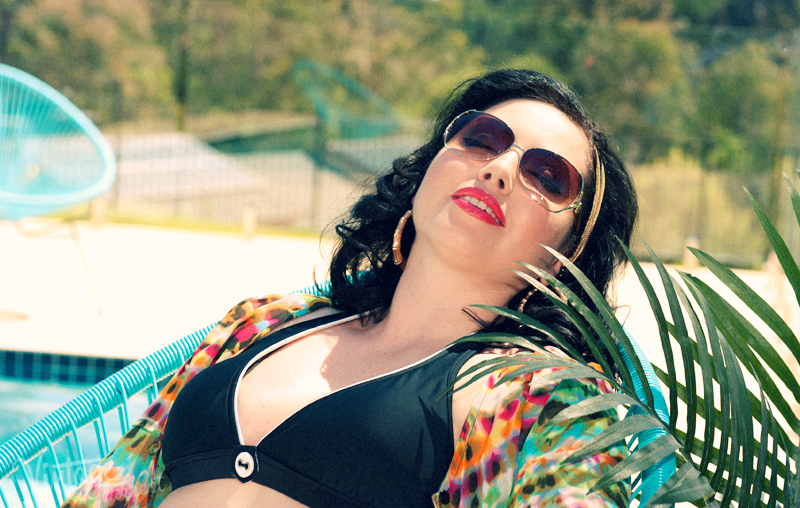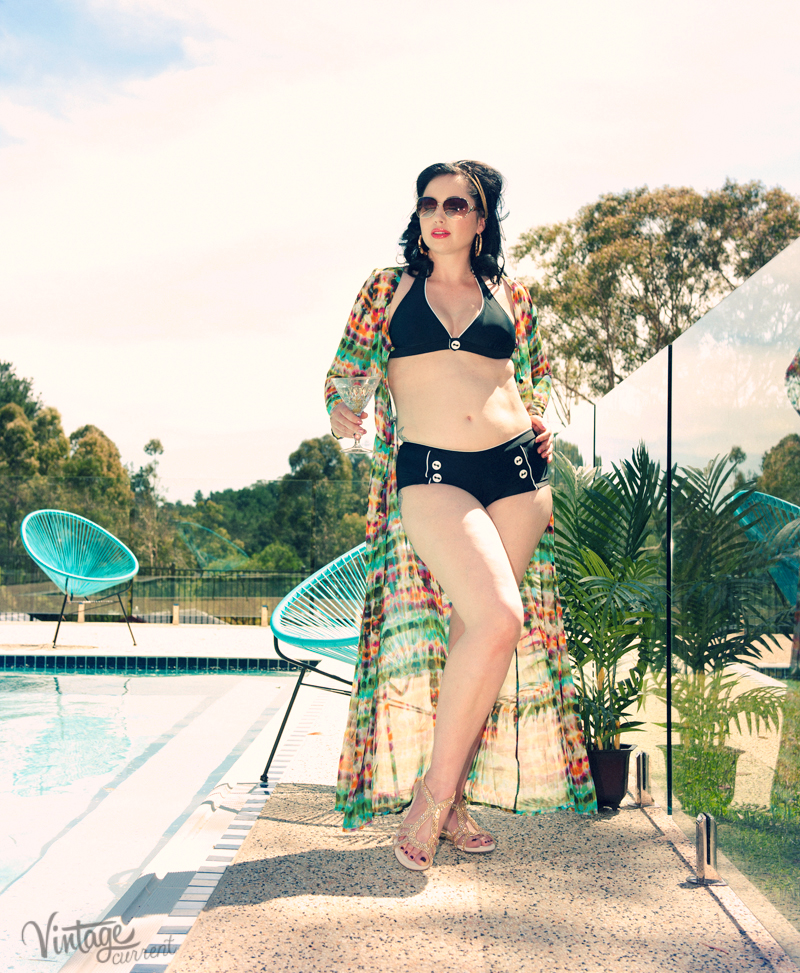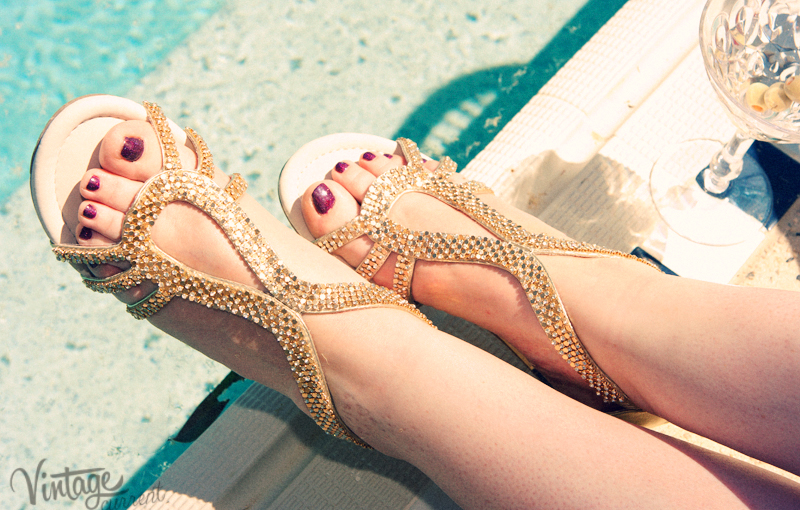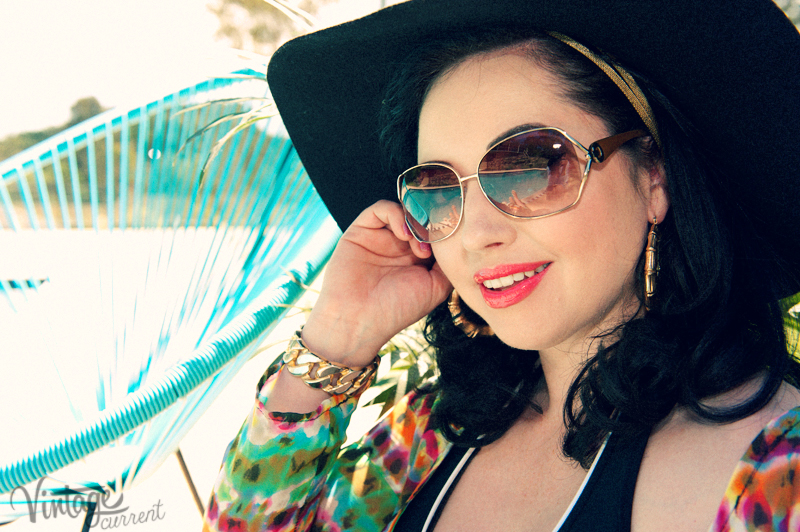 I find my pieces all over the place, generally not with one specific outfit or look in mind. It only really comes together when I start to think about the "story" I have in mind for the day. My instant obsession with oversized gold everything began the moment I watch American Hustle (which I highly recommend). The costuming, sets and the story in this one immediately put it in my list of top favourite movies.
The Seventies is not a decade I've not really explored too much in my fashion adventures, mainly because I was born then and saw a lot of the fashion first hand. As a teenager I remember thinking, "Who on earth would want to dress like that?" Our house was filled with oversized floral wallpaper, orange kitchen accessories and lots of Mission Brown. Now I am much more partial to its glitzy, decadent charm. The Mission Brown they can keep.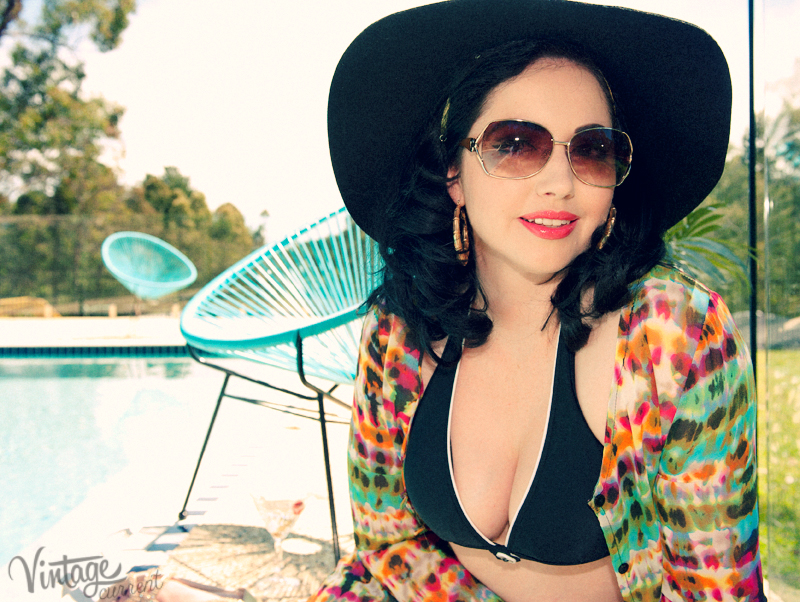 Outfit Details
Bikini – Seafolly Australia
Kaftan – eBay find
Black felt hat – Eugina Kim on Shopbop
Sunglasses – Sussan
Bamboo gold hoops earrings – Lovisa
Gold hinged bangle – Op Shop find
Sandals – Airflex