'Brought to you by Nuffnang and Cash Converters'
I am a treasure hunter.
There is nothing else that gives me quite the same rush of endorphins as finding a one of a kind, beautiful piece at a bargain price that totally knocks my socks off. The thrill is not just in the piece itself, but the overwhelming feeling that I am a genius, smarter than the masses, to have found this hidden gem. This is a feeling that all shopaholics and vintage lovers can relate to.
The problem is, with the mass market being exactly that, mass; it is getting harder and harder to find sources for this special kind of joy.
Last week I was invited by Cash Converters to come into store and explore the range of jewellery they have on offer. I'll be honest. I've never shopped in a Cash Converters store and neither have they ever come to mind when I felt the need for a special piece of bling. I knew they existed, but they have just never registered on my radar either as a shopper or as a bargain hunter. It's surprising just how quickly things change.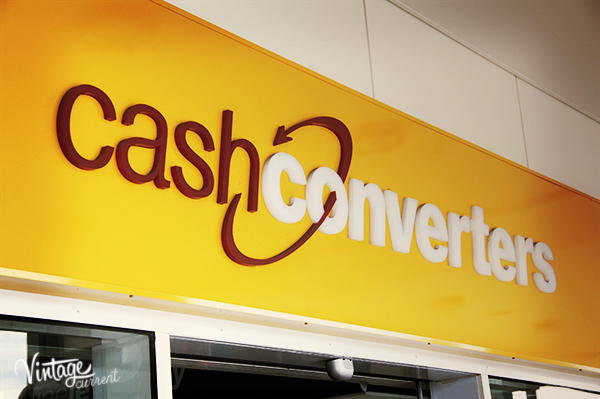 When I stepped into the store, I was greeted by the smiling face of the sales lady polishing up her jewellery counter. Light, bright and shiny, and without a hint of "jewellery store intimidation". (This is the feeling you can get when you walk into a store with diamond filled cases and feel like you're being sized up for whether you should be allowed in there or not)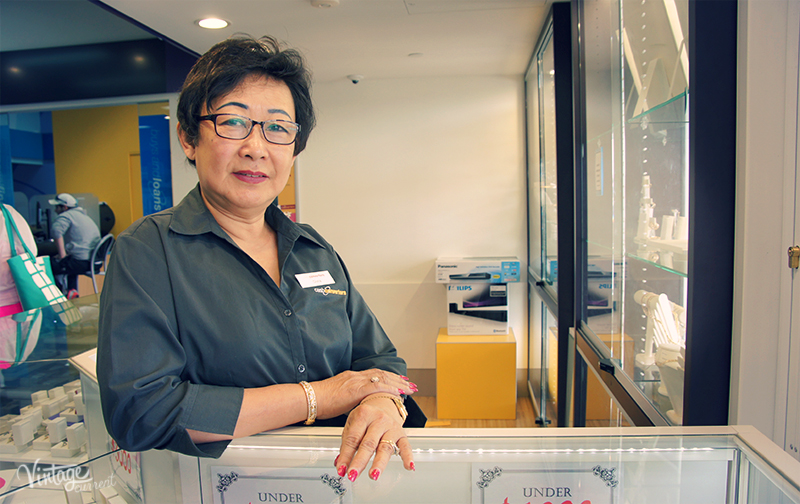 Surreptitiously, I began to peruse the cases, expecting that I would be viewing rows and rows of out-dated 1990's gold rings and bad chains.
Can I show you what first caught my eye?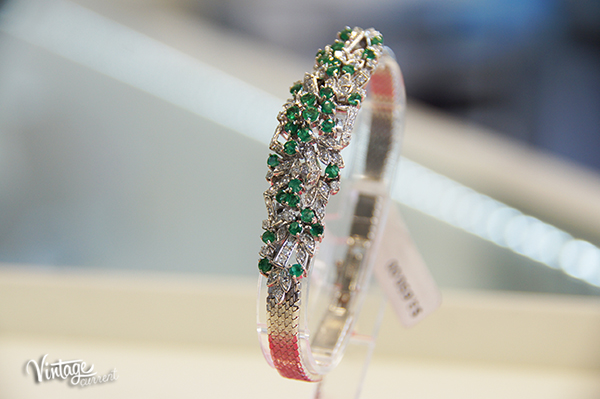 An emerald and diamond vintage bracelet.
SERIOUSLY!! How freaking gorgeous is that!
Once the store manager Anthony came in and introduced himself, my mind was well and truly open. The cases held a beautiful mix of classic, current and very vintage designs. I imagined myself wealthy enough to take my pick and fill every finger, yet I still couldn't narrow it down to a top four.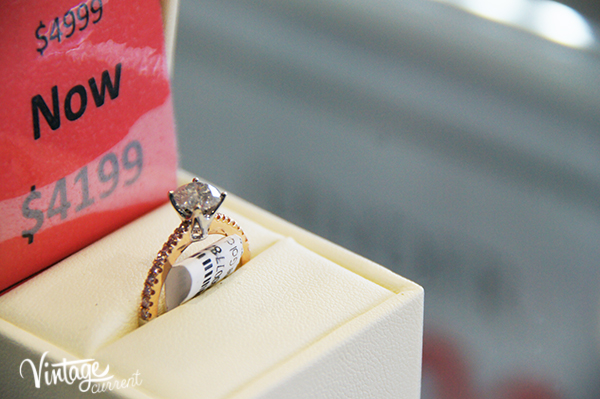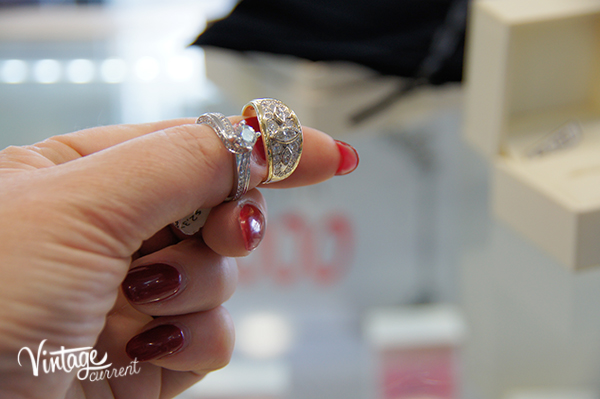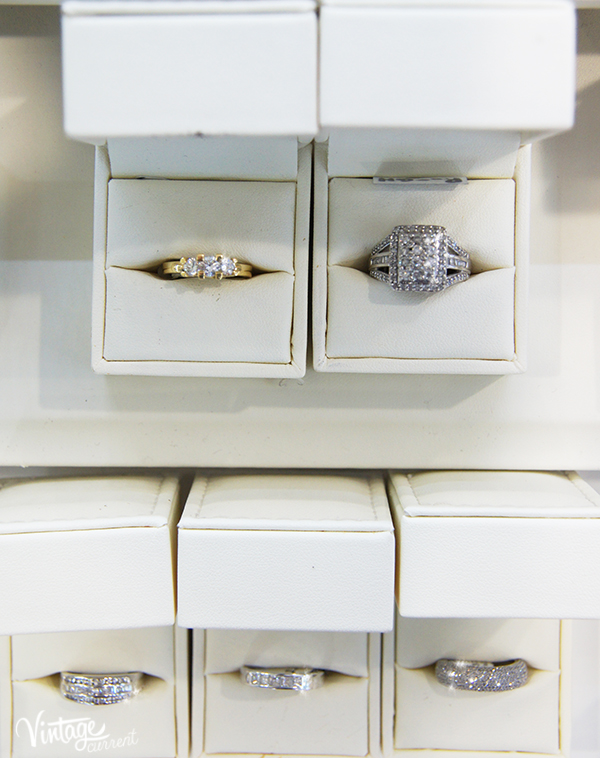 Cash Converters source their jewellery from all kinds of situations. The Emerald bracelet that I later discovered had a matching necklace (oh dear god!). Some pieces have been remade into custom designs, taking gems from various pieces and turning them into stunners. Others have been acquired for their high-end stones and beautifully modern settings.
The more Anthony and I spoke, the more I realised I'd stumbled across something fantastic. Here I was, standing at a gleaming jewellery counter, where not only did the pieces make my eyes glaze over with lust, but that I could afford.
I am very (very) partial to spending my money on jewellery; not only for its beauty, but I see it as a good investment. Rather than always buying the "disposable" costume jewellery, there is a perfect way to outfit yourself in diamonds, gold and precious stones. Swapping out your wardrobe!
Think of it like this; if you took all the random bits and bobs you have lying around in your jewellery case, old 21st presents etc, and took them into Cash Converters, you may have enough to upgrade to a more impressive piece. Then, once you're over it, simply go back and trade up again.
This is the same system I use when acquiring so many of my beautiful vintage dresses but I'd never found an easy way to do this with jewellery. I have a number of pieces I no longer use or want and would like to sell. But doing this through an auction site can be costly, unreliable and a long-winded process.
Because Cash Converters sell most of their pieces beautifully restored and with a valuation certificate, I don't have the same hesitation that I do when looking at supposedly vintage or antique jewellery online elsewhere. And yes, Cash Converters sell jewellery online and have close to 17,000 pieces listed. So any time of the day or night, when the need for a new and impressive piece calls (like the possibility of meeting royalty on my next overseas trip), I know exactly where I'll be looking.
Oddly, I'd never once considered Cash Converters as a place for treasure hunting, yet I felt like I was pretty clever to discover this secret; even though I'd been invited. Yes, I'd gone in looking at jewellery but I'd also come out hyper excited about the prospect of diamonds and vintage video games!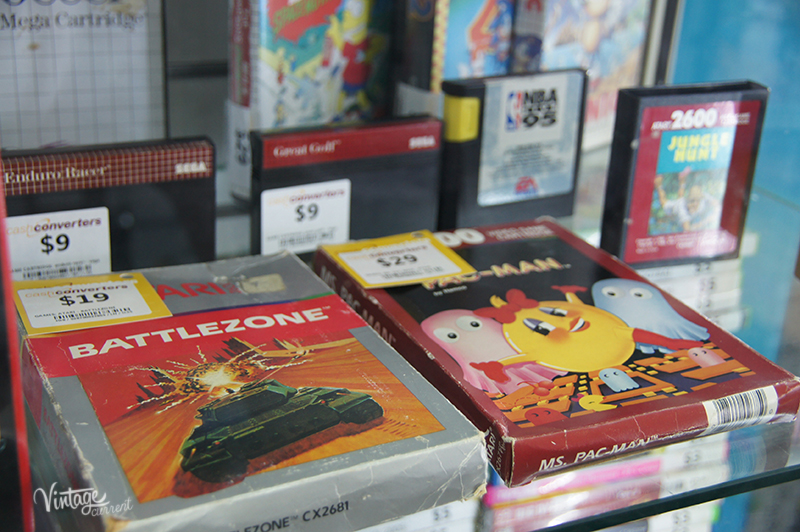 Since my visit, I've been dropping Cash Converters into conversations with a number of people, trying to find out if they ever shop there. I've yet to hear anyone say yes. And you know what this means to a treasure hunter like me? The possibility of an undiscovered honey-pot!
I rather feel like I'm giving away a new secret location to you here, and if they hadn't asked me to spread the word I may not have. (Just kidding, I love you guys).
So as I write this I have several tabs open on my computer; bookmarking some beautiful diamond earrings and a stunning art deco ring to put on the list of Christmas gifts I'd like to give myself. And just like the diamonds in them, I'll know that these are one of a kind treasures.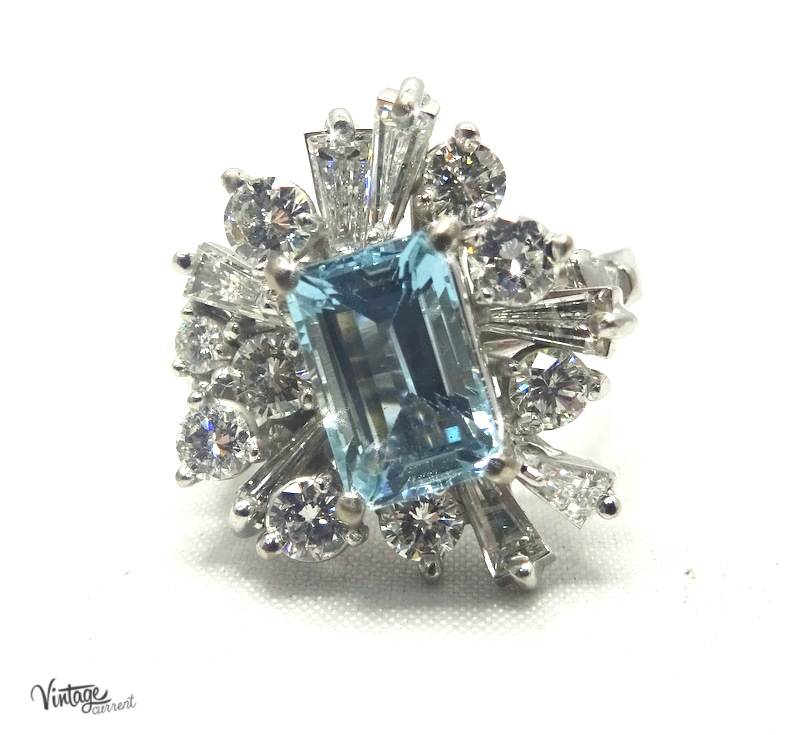 To stay up to date with all the latest Cash Converters treasures follow them on Facebook, Twitter, Instagram, YouTube, Google +.