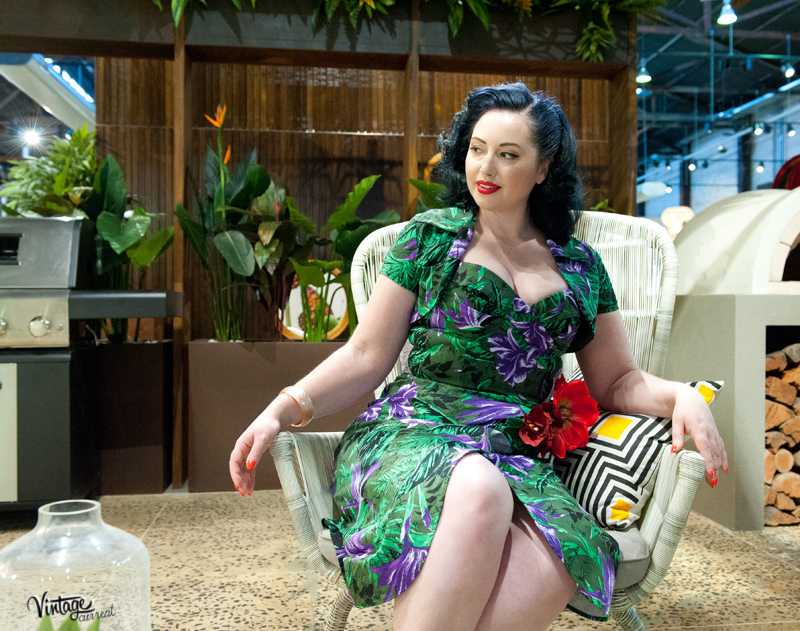 Pin Up Girl Clothing Tropical Dress
The first stage of our big renovations are almost coming to a close. That is, that outside stage. I'm at the point of beginning to put in all the new plants for our tropical garden to give it a truly resort style feel. It's been an interesting organic process, without planning things in minute detail but rather having a big picture and going with the flow. I'm so glad I didn't get too carried away and try and tackle everything at once. We've broken up this project into both indoor and outdoor stages, the indoor stage to come a bit later. Lucky for me as the whole idea I have for my kitchen has changed dramatically in the space of the last three months.
Where I always imagined I'd create some sort of very vintage looking kitchen, in pastels with kitsch trimmings, I'm now lusting after something entirely different.
Visiting the Porter Davis World of Style the first time, I quickly fell in love with this space, my favourite of the lot. A tasty tropical kitchen. Standing behind the counter with the huge glass splash back window, I knew this is what I want my kitchen to be; a tropical feeling, high tech oasis. Imagine the Jetsons built their home on a Thai island and you'll know exactly what I'm aiming for.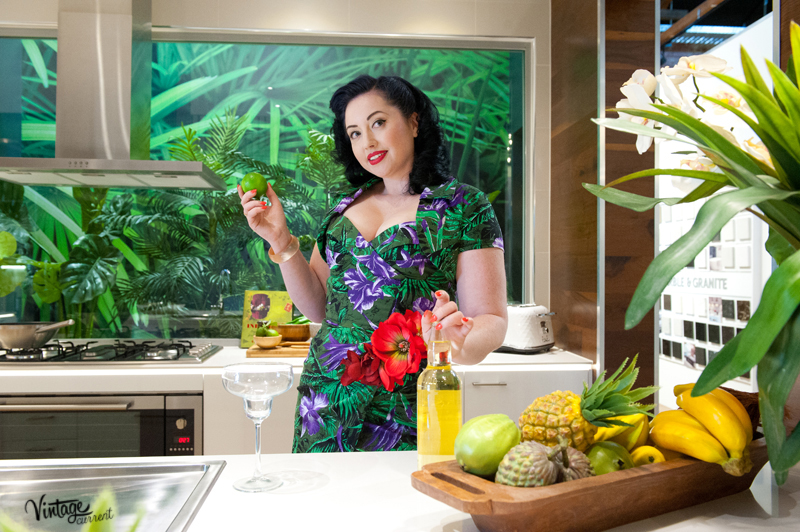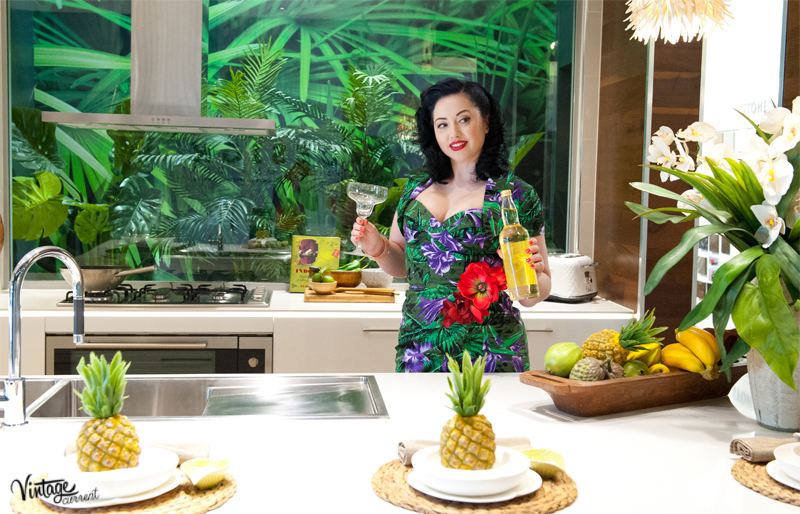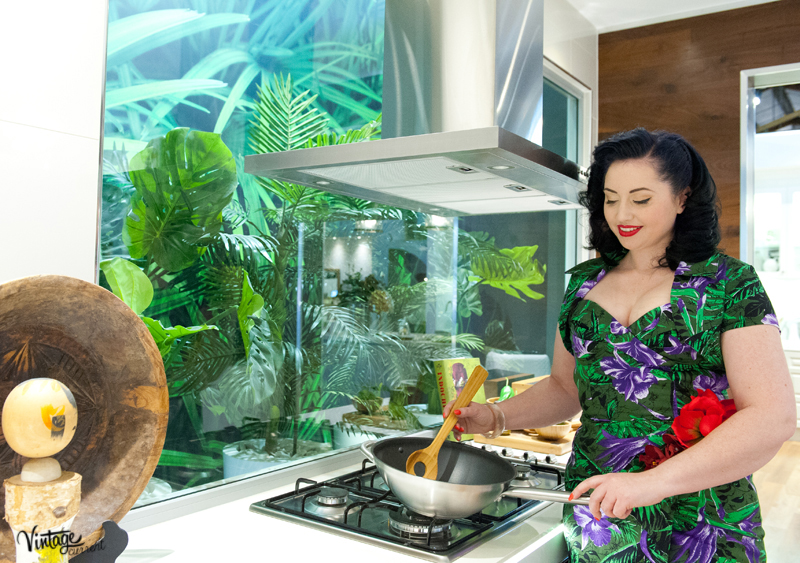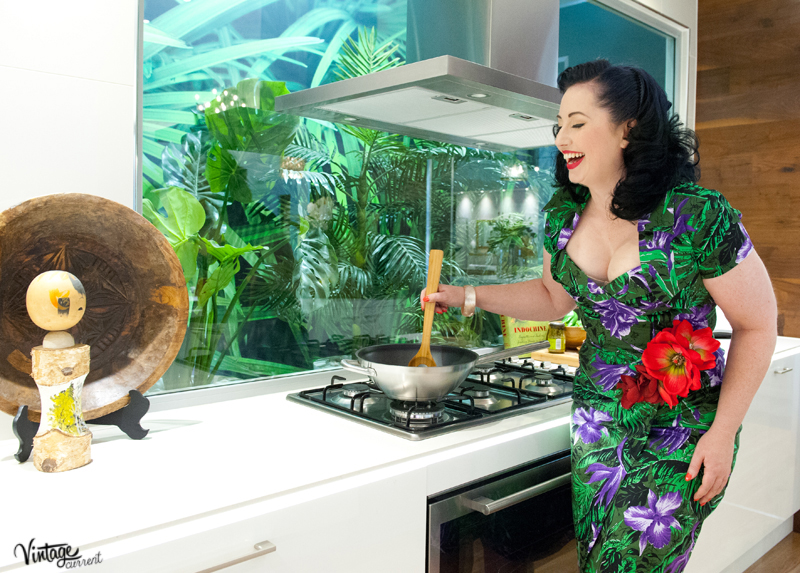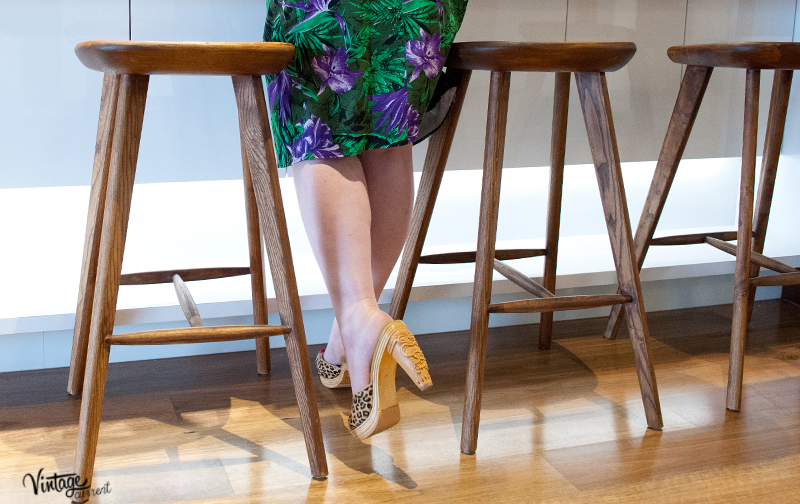 Everything is crisp and bright giving it a kind of tangy feeling, just like a lime. The openness of that window behind the stove is achingly gorgeous, and even if it means I somehow need to install a small fake garden cavity behind my stove area, I WANT THIS! The benches and cabinetry is streamlined and simple, with my favourite silent, smooth glide fittings. And the appliances are all sleek stainless steal with modern lines. I'm no minimalist, and I don't like the cold, harsh look that often comes with too much modernism; but paired with the beautiful bamboo flooring and wood panel detail, (not to mention my green window obsession), this kitchen is to die for!
I'm guessing that like me, you are looking at the detail in these shots like the incredible carved wooden stools and stone bowls, wondering where you can buy that? Coco Republic provided most of the pieces for World of Style, and when my next pay cheque comes around I'm making a beeline for the store!
This outdoor entertaining area solved one of my design problems. I adore these bird of paradise plants, but I wanted even more greenery. Then I saw they had installed planter boxes up high as well, so the greenery becomes almost a boarder through which you view everything else! Very clever.
The geometric design of the accessories against the rattan style of furnishing, pulls the whole thing together with the blend of tropical and modernism. I'm now entirely rethinking my accessory plan for the sunroom, and having a lot of fun making up new inspiration boards.
Having the chance to create a space that truly reflects your personality and lifestyle is such a luxury, even the process itself can be delightful (if you don't have any melt down moments). Even though I'm not the world's greatest cook, I do spend a lot of time in the kitchen, so I'd like it to match my style!
Outfit Details
Tropical faux sarong dress with matching bolero – at Pin Up Girl Clothing the Malibu Tiki dress by Deadly Dames
Leopard print heels with carved Tiki heel (!) – The Wooden Tiki Platform by Pin Up Couture
Red floral piece word at hip – made by me
Nail colour- "Coral Me Wild" by Revlon
Lips – MAC "Russian Red"