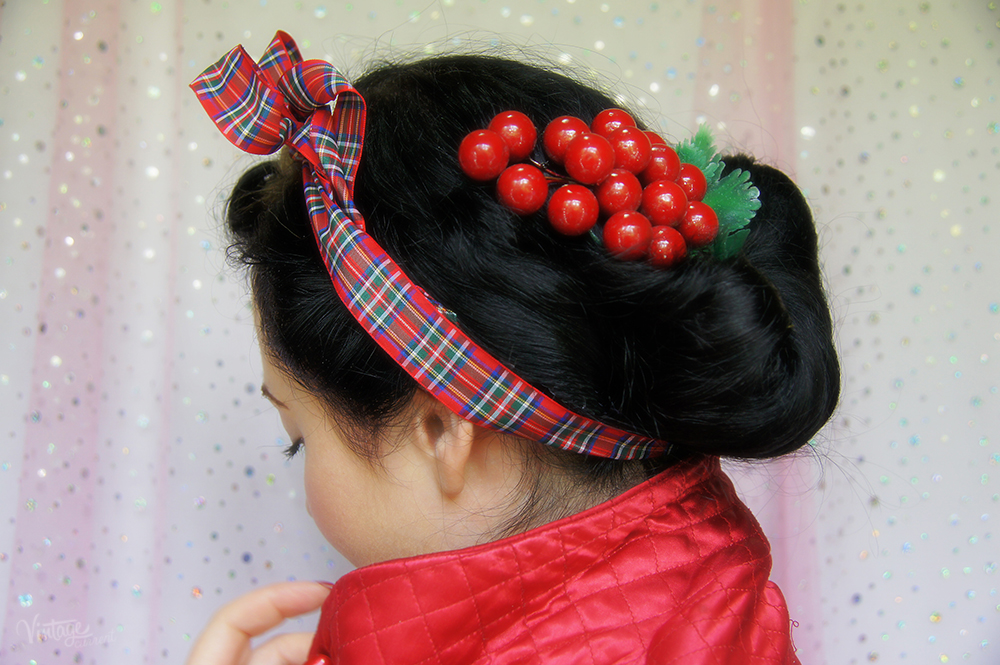 Here's the perfect vintage hairstyle for Christmas – our summer holiday season!
Christmas in Australia is often during the hottest part of the year, so choosing the right hairstyle to keep you cool and chic is an integral part of putting your look together.
This is a cute 1940's hairstyle that involves pin curling and a roll at the nape of the neck. I'd suggest this as an intermediate skill level, or one you want to try a few times before the big day. It takes about 1 1/2 hours to do, simply because the pin curls need to dry in the middle of it. So this isn't a last minute before you leave hairstyle either.
You could choose to skip the pin curl setting and shave off a heap of time by using a curling iron for those sections if you want to.
You'll see for my Christmas theme I've used tartan ribbon and a (ridiculously oversized) holly at the back, but of course you can substitute these for the ornaments of your choice. In fact I quite like the idea of adding bells, but it may drive you crazy…
If you do decide to give this one a whirl, let me know how you go and maybe even share pictures of your 'do' on Instagram with me!
#VCStyle
Enjoy!
A Vintage Hairstyle for Christmas