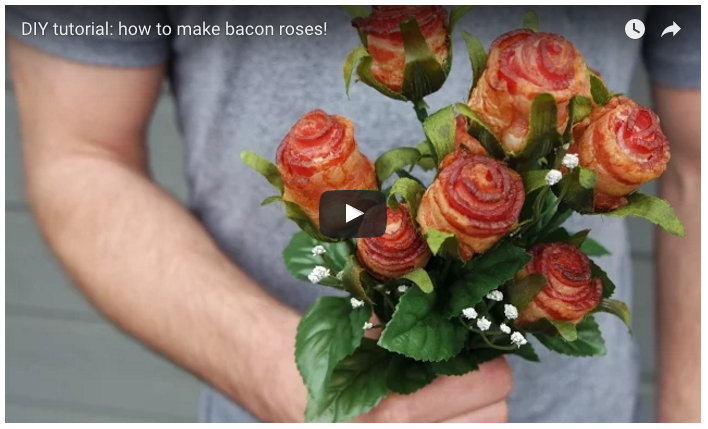 You waited a bit too long, right? Distractions, obligations, hectic schedules … trust me, I completely understand.
Now Valentine's Day 2016 is well and truly upon us, and many of us are scrambling for the best last-minute gift ideas possible (while pretending we had these planned for weeks).
Fortunately, in our search for creative, clever and unique ideas, we found five brilliant gifts, nearly all of which you can create yourself.
So even if you happen to be reading this on the morning of February 14, you've still got great gift options. (After that, you'll want to bookmark this post for next year.)
DIY & Homemade Valentine's Day Gift Ideas
1. Create Your Own Video Valentine's Day Card
You've got a bunch of photos of and with your valentine, but standard prints aren't a very creative gift. A photo album is a nice step up, but why not go a bit further and turn your still images into a short, animated movie clip with a sweet soundtrack of your choosing?
Combine photos, video clips, text and music to create your own HD video with Animoto. It's super easy to use — no video experience required — and with plans starting at $13 per month, you might want to use it for other projects (birthdays, holidays, who knows).
We use Animoto to create our Style Snapshots videos, like the one above.
2. Present a Full Year of Dream Date Ideas
We love this idea from the Find Joy in the Journey blog. You can keep it simple or go all out and plan your dates in detail, depending on your time and brainstorming energy.
The basic version: Pick one day per month for the rest of the year, plan your romantic activities and itinerary, lock them into your calendar and present your list of ideas in any number of creative ways. Reservations to restaurants, gift cards, tickets to events, day trips or nights in — the possibilities are endless. You can adjust days later if needed.
Have fun with the presentation, too: Write out your date plans and tuck them into small envelopes with any accoutrements. Check out Shannon Brown's blog for even more tips.
3. Reminisce with a Retro Photoreel & Viewer
Are you or your partner old enough to remember the magic of the ViewMaster?
If so, you'll love RetroViewer, a photo viewer modeled on the red plastic classic with spinning photoreels. You can now build your own reels from your photos, customise your viewer and buy gift cards to share the joy. RetroViewer sets start at $30 USD and they ship worldwide.
While you won't receive this set in time for Valentine's Day now, we suspect your partner will be so jazzed they won't mind waiting a bit longer!
4. Trump the Boring Card with Invisible Ink Love Notes
It's 2016. Who still wants to get a mass-produced Hallmark card, with sappy sentiments that are generic and impersonal?
You can do better, and have more fun in the process, with this easy DIY project: Present your love messages in a bottle with invisible ink from lemon juice.
Your partner can decipher the messages simply by holding them close to heat (near a cozy fireplace or scented candles, perhaps?). And you can handwrite the note with any number of implements, from a paintbrush to a Q-tip.
Warning: Emptying a bottle of wine or spirits to help house these notes may affect your handwriting. Proceed with caution.
5. Make Fresh Roses from Bacon (Yes, Bacon!)
Must we even elaborate on the deliciousness of this idea?
Bacon. Roses. DIY. Total win. Here's the tutorial from our friend Jess Pryles.
You're so welcome.
---
Have any of your own amazing DIY gift ideas for Valentine's Day? Will you try any of these? Let us know in the comments!