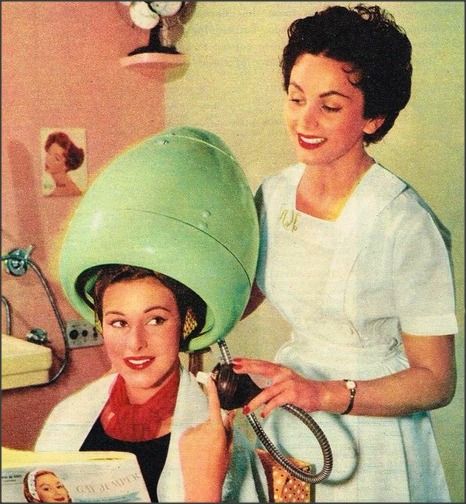 Thanks to the proliferation of information on the internet, it is getting harder and harder to find the answers you're looking for.
When you ask Google, "what is a wet set" I'm pretty sure you don't want to see some of the images I've just had to burn from my eyes. (No don't do it.)
In short hand terms, a "wet set" is any kind of shape, usually a curl, you set into your hair while it is wet and wait for it to dry into place. This could be big bouncy curls, or it could even be traditional finger waves. This setting method fell out of fashion as it is time consuming and honestly, not the best option for all hair types. It is very rare that I do a full wet set on my own hair due to both time restrictions and my naturally wavy hair type.
The options for drying your wet set are two fold; you either wait until it dries naturally (like overnight) or you'll be using a dryer. I do have a vintage bonnet dryer, both the upright and portable hood kind, but neither of these are hot enough to dry my hair quickly. Even two hours under these is not enough fully dry my set.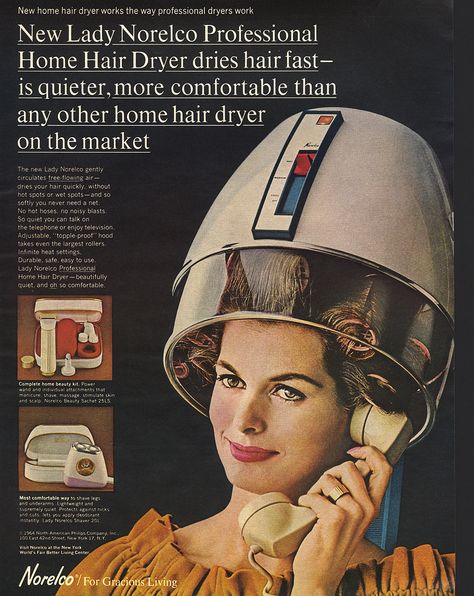 As someone with wavy hair, prone to fizziness, an overnight wet set also causes me problems. Because I haven't smoothed and dried my hair first, it hasn't smoothed and sealed the cuticle. So while the initial result might look fabulous, any hint of rain or humidity turns the set into an absolute nightmare.
My own version of a wet set is more of a "damp set", in that I have dried my hair off completely before employing rollers or pin curls to move my hair into the desired shape. Sleeping in wet hair is also a health risk and after a time can cause fungal infections on your scalp (ick!) because of the warmth and very high humidity as it dries. By having dry hair to begin with, then dampening it with setting lotion or even just a little lavender water, I get a much better finished set and avoid having a wet scalp all night.
Wet sets need to be planned in advance and can actually help you cut your morning routine in half. They last longer than a hot set (from rollers or an iron), and are particularly good for super straight hair that is stubborn to curl. Choosing a setting pattern and method is where the fun begins with this process, and the results are only limited by your skill level and hair type.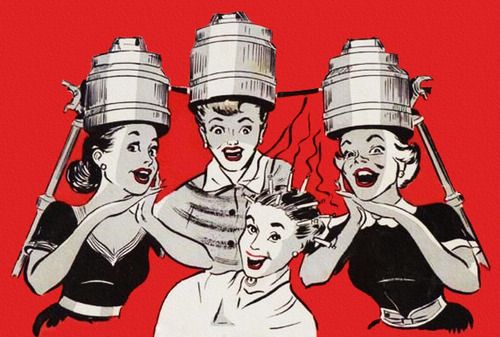 DO NOT use velcro rollers. Ever.
DO NOT wet your hair with hair spray or mousse unless you want crunchy curls you can do nothing with.
DO NOT use heat tools on wet hair.
---
DO use a natural shampoo and conditioner that promotes healthy hair and scalp
DO use a silicone free conditioner to keep your hair bouncy and without weighing it down. Conditioners that use silicone for shine make it harder fort he hair to hold the curl.
DO use a vintage chiffon scarf of with a similar grip (not silk) to cover your hair while drying. It helps prevent fly-aways from the rollers and keeps the curls in neatly while you sleep.
This video is an old from back in our archives (but still a good one), and will show you just how to tie a headscarf to help keep your curls in overnight.
Now that we've finally set up our new vintage salon space here in Melbourne, it's time to make more videos.
If you'd like to see how to do your own wet sets, or would like instructions on how to create particular hairstyles using the wet set method, just leave me a comment!