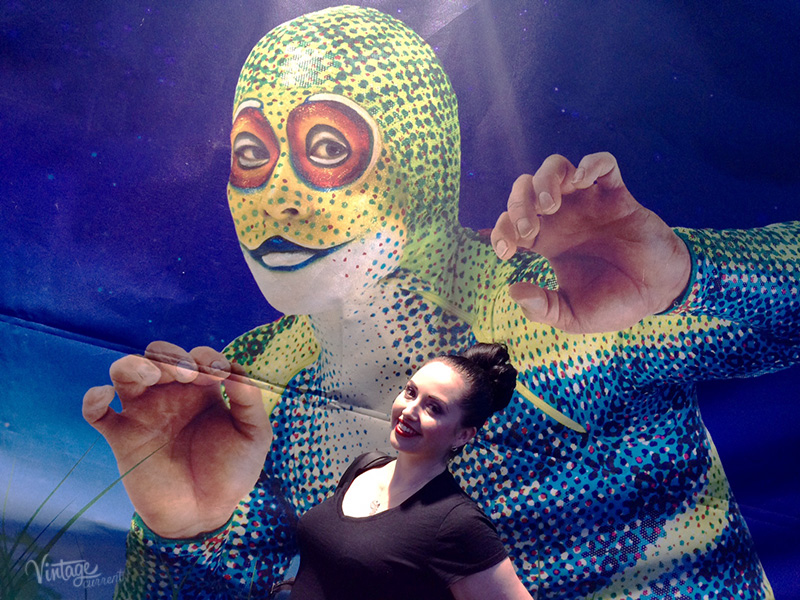 As a first timer seeing any of the work of Cirque Du Soleil, my first visit to see Totem in Melbourne, was the type you remember forever.
Under the big top at Flemington Racecourse, the Cirque Du Soleil team created the most astonishing wonderland! To be asked which was my favourite act at the end of the evening, was an unanswerable question. The feats of strength, wonder, athleticism and engineering was more than my mind could handle. Utterly mesmerising is the only accurate description.
What made my evening however, was the opportunity to spend time with the cast and crew backstage after the show for a tantalising look into the world of circus folk.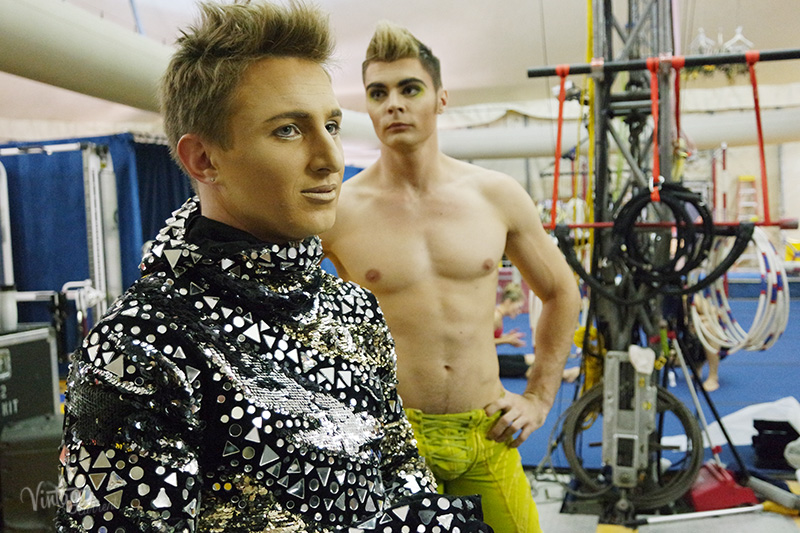 Chatting with the "human mirror ball" about the construction and weight of his costume was utterly fascinating. Each piece has been carefully calculated to ensure maximum reflective surface with a minimal weight rating; something they are continually perfecting. Even the choice of glue must give the right strength of adhesion but not add too much weight to the overall piece. As an inventive fashionista with a penchant for the hot glue gun, I found this whole thought process enthralling.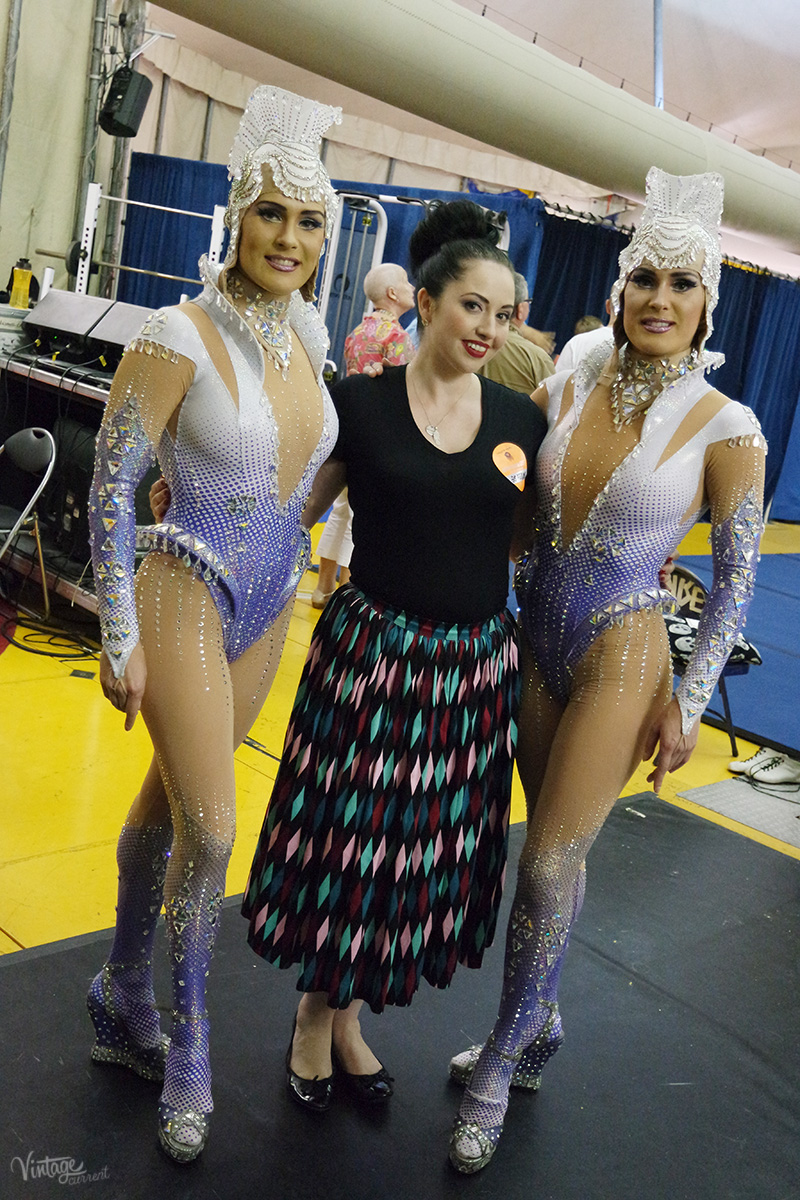 The closest  I was able to come to selecting a favourite act, was these two ladies. Twins from Eastern Europe who's costumes were so stunning I was mentally sketching out replicas for myself during their act! To me they appeared as gorgeous, mermaid like creatures with fin like crowns and reflective scales. Each costume is (naturally) hand made to their exact specifications and commercially worth $30,000 USD each!! Of course I had to ask the question of how they were cleaned, especially given just how difficult and expensive I know it is to clean my vintage pieces. The ladies have two costumes each, one for the performance and a clean one for the finale. These are each cleaned daily with hand washing and air drying; the process of which is done immediately on site in a bank of washing machines and high powered air dryers for each performer.
The fabrics, trim and other embellishments are all kept in highly organised filling drawers within the costume department. If any repairs or replacements are needed while on tour, it is essential that the correct pieces are quickly and easily accessible. While Cirque Du Soleil have the largest costume workshop in North America, the tour wardrobe and makeup department was nothing short of "system porn" for me.
As an addict of labelling, sorting by colour and finding smarter ways to operate, the set up for the performers and the precision to which it is adhered, was heaven to me.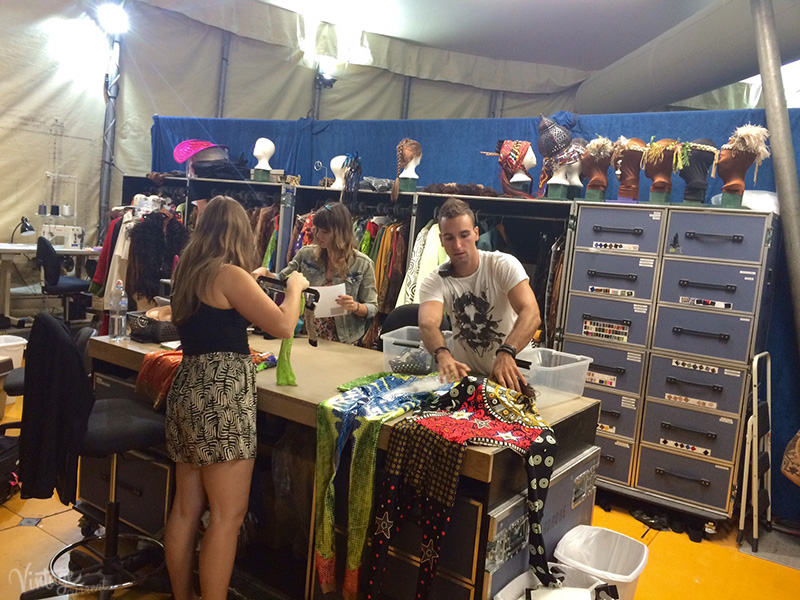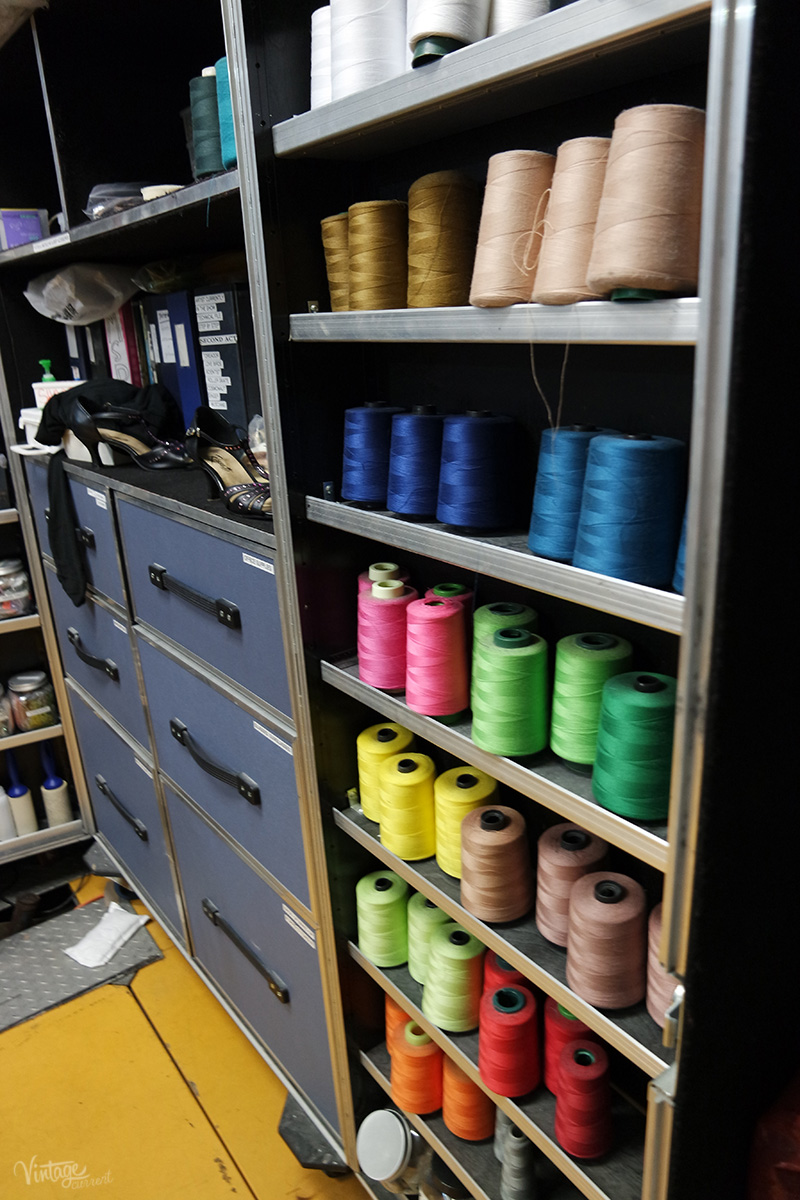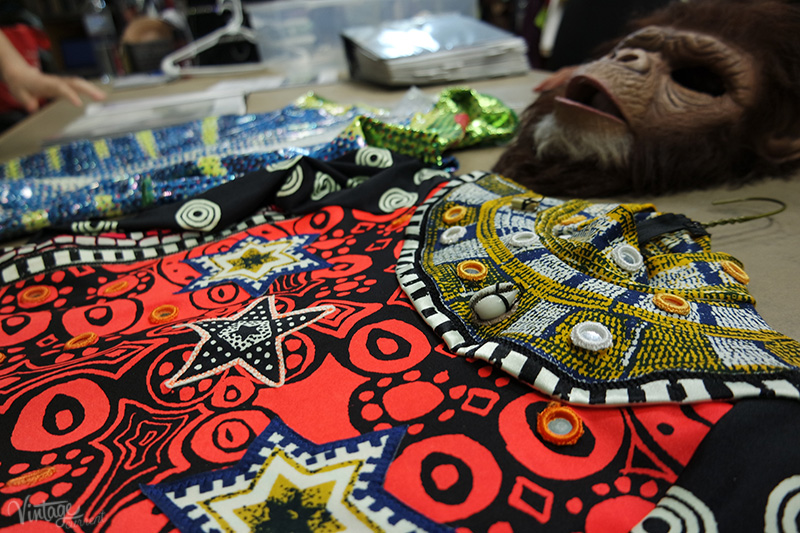 The sheer attention to detail in these costumes is staggering! The custom printed lycra, appliquéd treatments, individually moulded latex monkey face masks, each of which has had the hair attached strand by strand. Not one detail is over looked, no corner cut and no wardrobe malfunctions that will not be pre-empted and swiftly remedied.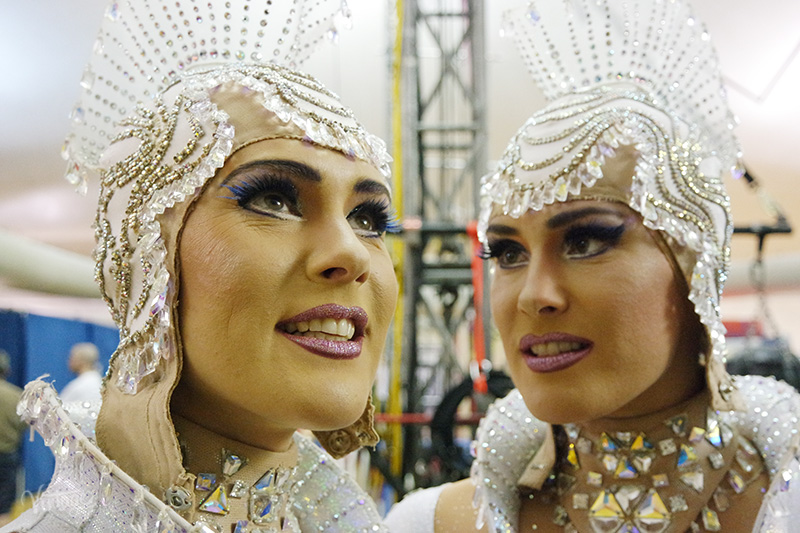 As a makeup artist, I had to know, did each performer complete their own look and if so, how long was the process? For these ladies the process was an "easy" 45 minutes now that they were well practiced. They did state, however, that theirs was the most simplistic of all the makeup applications! So not only do the performers need to be incredible at their own craft, they must also be quick studies in the art of stage makeup and dab hands at arduous daily application.
In order to direct the performers, the makeup designer had prepared extensive proof and instructions sheets. Having prepared these on many occasions myself for models to follow, I can tell you it is no easy task ensuring that the finished product looks remotely like your sketches!
MAC is an official sponsor of and supplier to, Cirque Du Solei. This huge (perfectly labelled) filling cabinet holds enough product to put and entire sorority house into dead faint! Gleaming tubes of glitter gloss, pots of paint, liner, crayons and lashes were lined up like candy. Ben Nye products completed the cabinet of lust (as I like to call it), and had my hand reaching for my credit card on auto pilot.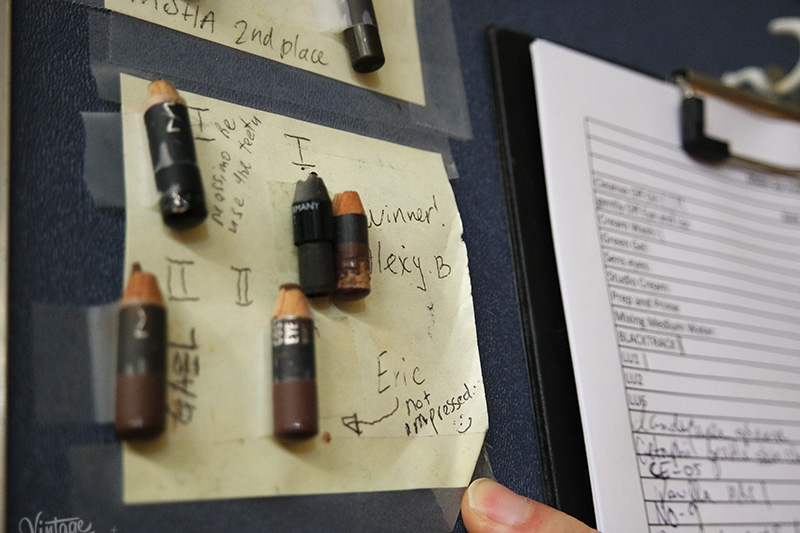 This small post-it with the stubs of liner pencils brought home to me the true magic of what Cirque Du Soleil really is. One huge talented family, travelling the globe to share their miraculous world and reawaken our own sense of wonder.
Cirque Du Soleil Totem is in Melbourne until March 28th. Be mesmerised!