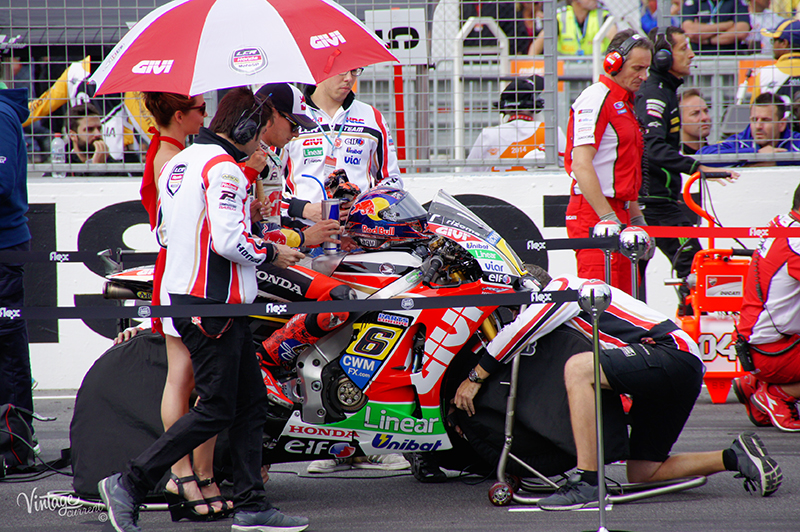 Brought to you by Nuffnang and Spokes
There is Spring Racing of another kind in Melbourne each year. It does have horsepower, but not in the four legged sense.
Last Sunday the Mr. and I headed to Phillip Island for the MotoGP, something we'd never done before. We both love bikes but for different reasons. He's actually the long-term rider; I prefer the aesthetics and how brilliant they look in photo shoots, not to mention the leather outfits. It was a day we both really enjoyed.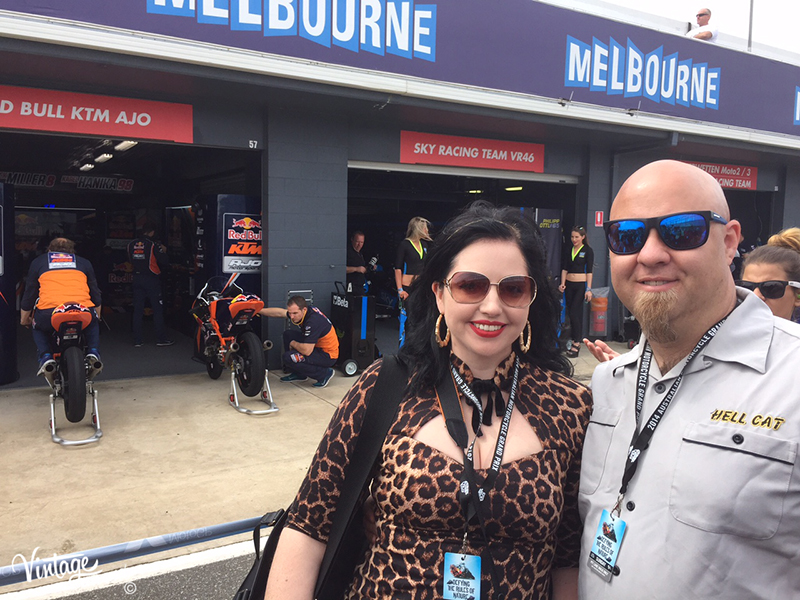 Being there as guests of Spokes, we were even more aware than usual of the message of rider safety. As you may have read in my previous post, the Mr. has been involved in seven accidents in his time, fortunately protected by the correct gear.
On our drive out to the Island we were discussing this matter of correct protective gear and watching all the riders as they passed us. I was horrified to note that so many riders and pillions weren't anywhere near well enough prepared. I saw shorts, t-shirts, chino pants, sneakers and even high-heeled sandals. The thought crossed my mind that should this particular lady come off, she wouldn't be spending money on pedicures anymore.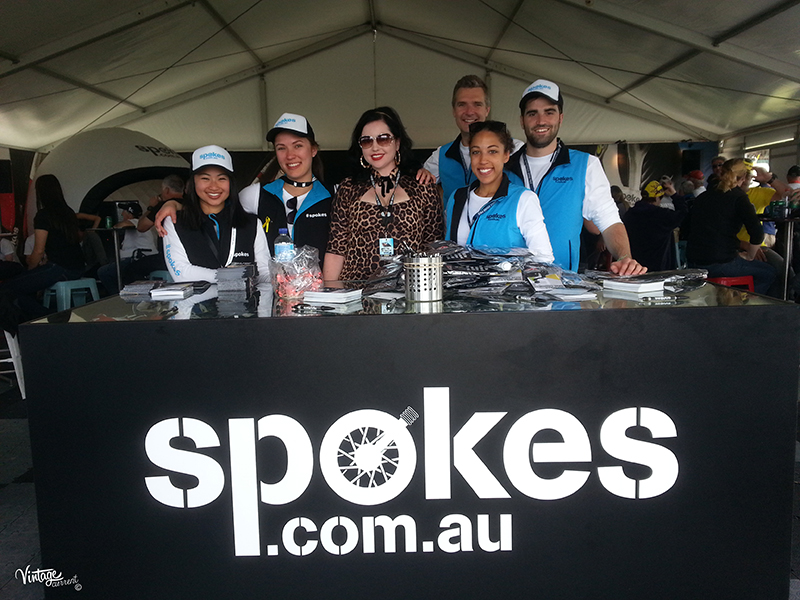 It was a great relief to arrive and see plenty of riders in proper protective gear, checking their helmets in at the minding booth. Spokes had a fantastic arrangement where anyone who arrived in proper protective gear received a lunch voucher they were able to cash in at the Spokes Protective Clothing Lounge. Smokey pulled pork rolls, beef brisket… yum!
The first thing we did was head across to the Expo area and check out the various offerings including sunglasses you can smash with a hammer and they don't break!
The team at Spokes put us both into the virtual reality headsets to test our reaction time. I get quite competitive at these sorts of things, so I was concentrating hard and made my best score of .43 of a second! Yeah!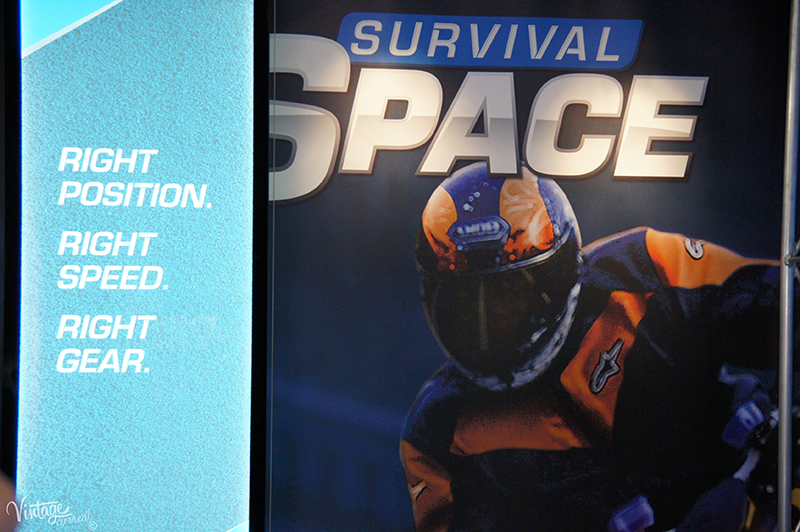 I took my own protective gear (my ear plugs and sunnies), and we headed off for a special tour of Pit Lane. What a hive of activity! I was relying on the knowledge of the Mr. to translate all the colours and numbers into something I could understand, otherwise it was a blur of chrome and fake tan to me. I did have a little giggle at how alien I looked amongst all the grid girls, but mostly admired their ability to withstand the cold and pain of high shoes all day!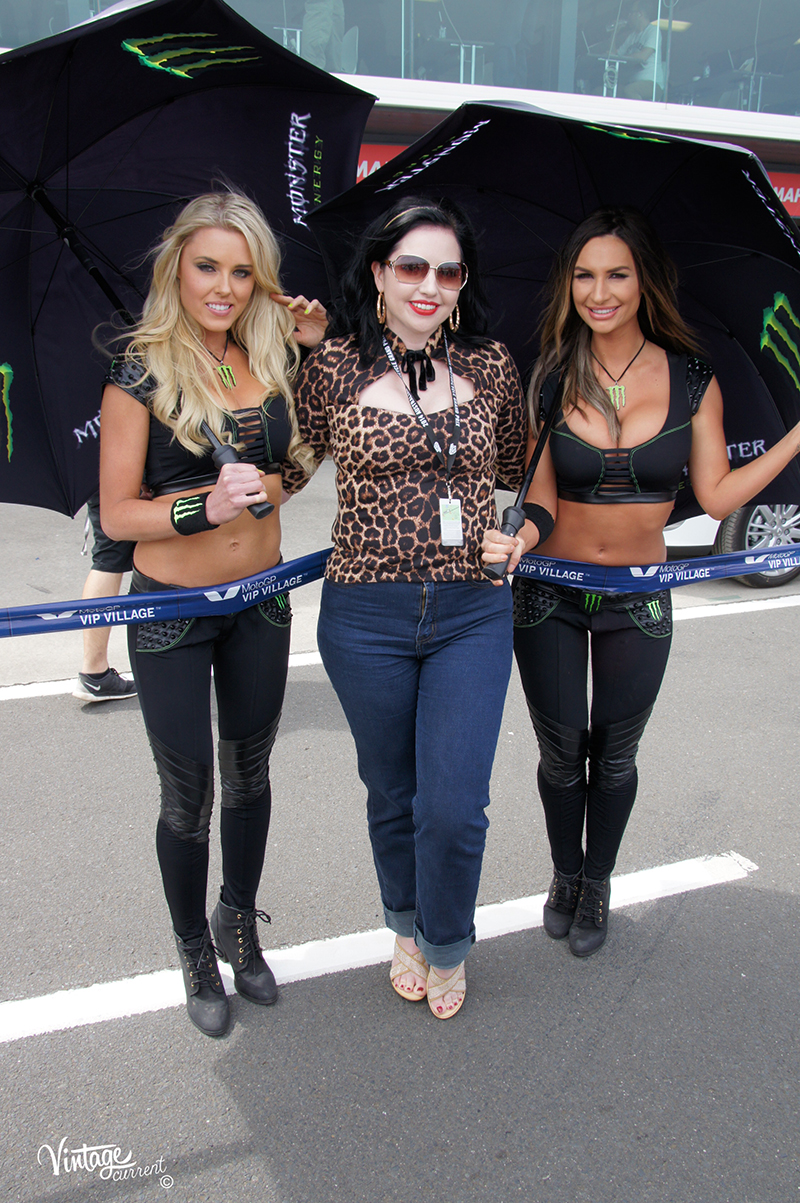 We headed back to the Spokes Protective Clothing Lounge for some of that amazing smokehouse lunch.
It turns out that the issue of wearing the right protective gear was more complex than I first realised. Did you know that there are online sellers marketing items to Australia that don't meet our standards or are even counterfeit items? I had no idea! I suppose if they're doing it with something as small as makeup, it stands to reason that bigger ticket items like protective gear would have this problem too. It just hadn't crossed my mind. It pays to check out www.spokes.com.au for a full list of protective clothing retailers.
With our bellies full and feeling just that much more secure in the knowledge that the Mr. had gear that measured up to standard, we headed off to the grandstand for the big race.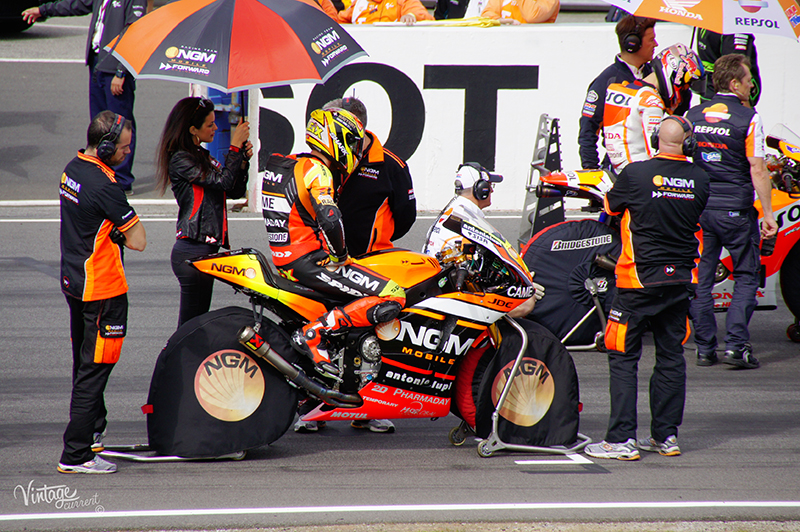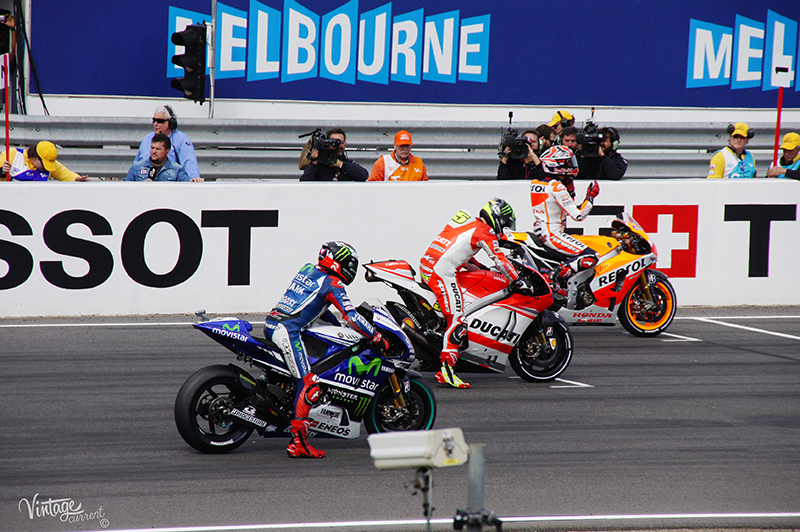 I'm not even going to pretend I know about how this all works. I know the names, I know they go incredibly fast, and I know there is a palpable adrenaline in the crowd. I was informed that no, the tyre covers weren't "wheel cardigans", but rather electrically heated tyre warmers. I stuck to looking after my camera.
Trying to capture an image of riders going at around 300KPM isn't as easy as I had imagined. Even with all my sophisticated gear, this is the best shot I managed to capture of Rossi about to cross the finish line.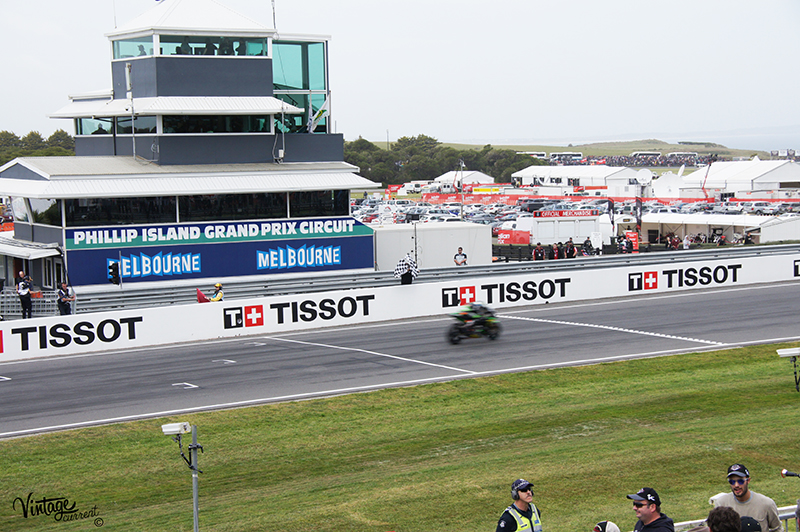 It didn't matter though; the size of the grin on the Mr's face said it all. I know he was having ideas of returning to the racetrack himself, (yeah…. nah.) while we ladies could only think of the hot chocolate and warm car that awaited us.
The trip home left the Ride Smart message embedded in my mind. After seeing a few spectacular crashes trackside where, sparks flying, the boys still got up and walked away. It meant that every rider that dodged and weaved to find the "better" place in the traffic made me wince. Too many exposed ankles, girls in high-heeled boots and rear wheels nearly clipped.
As we came into the first major town, a woman stood shaking beside her car, the motorcycle in various pieces in the gutter. A crowd sat watching as the police managed the scene. It was only a matter of time before we saw this happen, and again our conversation turned to how prepared the rider may have been for the worst.
I loved watching the race, I was even more enamoured by the bikes on show. Glittering gold, chrome and cheeky slogans. But no matter what, with the Mr. right beside me, I was and am, incredibly grateful that Spokes is out there helping riders learn and prepare to make it back home.
Follow @SpokesRides on Instagram for for great tips.
[dt_gap height="30″][dt_slideshow width="800″ height="450″ posts="motogp-2014″][dt_gap height="30″]