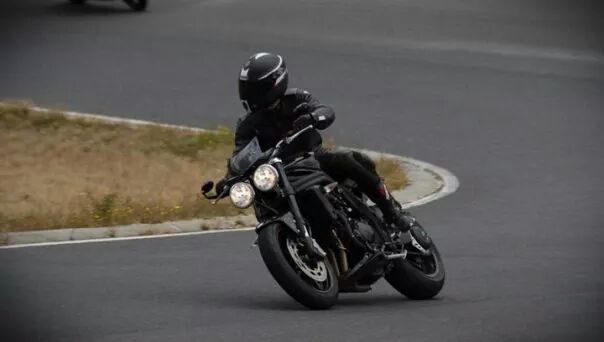 My husband used to race motorcycles. He now commutes into the city and home again almost daily. My best friend and her husband both ride regularly, on new and classic vintage bikes. I love them all the way they are, with everything intact; so you can understand why I have a strong vested interest in motorcycle safety.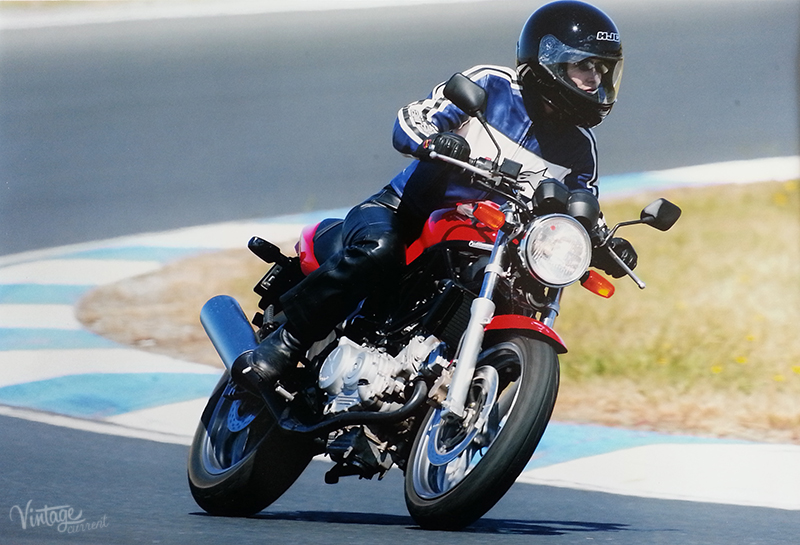 My Bff Helen on the track at Phillip Island
There have been a number of times that the Mr. comes home, shaken, having been in a close call with a distracted driver or even debris on the roads. Every time you get a roadside phone call, your heart stops. I know so many of you are in the same boat as me, with partners, friends and family all riding motorcycles. This puts us in a position of responsibility to highlight riding safety at every available opportunity.
I asked my husband for insights on his lifetime of riding.
"I've been riding for about twenty eight plus years and been involved in seven accidents, only one of which I was at fault. These are things I know for a fact.
Invest in good quality gear. Unless your name is Clarke Kent it's going to hurt when you come off. The choices today are amazing, and the technology involved – lifesaving.
It's never too hot to wear the right gear. Shirts, shorts, jeans, sneakers are not going to help you, even a fall at 20km/hr will be painful.
Pay attention ALWAYS. Your daily ride is not the time to contemplate the world's problems. That lapse in attention could be the difference between a near miss or a painful crash.
Be SEEN. We have all seen those stickers on trucks.. "If you can't see my mirrors then I can't see YOU". It's a simple statement of truth. Constantly scan those around you, can they see you? If the answer is no or you don't know then adjust your position accordingly and be prepared to react.
If you think you're fast on your weekend blast through the hills, take it to the track instead. Not only will you not end up being a statistic, you'll also get a dose of reality of what fast really is.
With the MotoGP in Phillip Island coming up next weekend, I'm honoured to be working with Spokes. If you've ever attended this event, you'll know how the road to the Island simply teems with bikes.
As a driver, it requires all your care, attention and skill to safely make this trip, ensuring everyone arrives without incident. I can't even imagine how much more difficult it would be for riders in these conditions. Congested roads, impatient drivers, and often inclement weather.
This isn't the kind of trip that you just wake up and decide to take. Planning and preparation make the journey a safe and enjoyable one.
"Over the years I've had the opportunity to clock up some significant kilometers on the bike, ranging from weekends between Adelaide and Melbourne, to a +5,000 km loop from Adelaide to Gold Coast (via Melbourne and Sydney).
I've done trips with tents, clothes, food, & more packed in my bags, to trips with nothing other than my credit-card.  I've even done a trip when I moved from Melbourne to Adelaide, with everything I owned strapped to my bike, and wrapped in a tarp to protect it all from the weather.  I've not done a trip with a trailer on the bike yet, but given my Dad has a sweet set-up with BMW and trailer, I can see that one happening at sometime in my future.
 What I have learnt in all these trips, is to pack smart, take only what you really need, invest in the  'right' protective gear for the expected weather conditions, and don't fall into the trap of 'pushing on for just another 20k's before I stop'.
 Stop for a break often, stretch, and ensure you're alert for any surprise that might come your way. Nobody wants to be caught out and be lying on the side of the road waiting to be found because of a momentary lapse of concentration.
 And what's the best route to take? The one that gets you there safely."
While we begin planning for our big trip next weekend, I want to ask for your help. Please, share this post, share this message and help me to highlight the message of rider safety in this week especially.
Your favourite rider might ride a vintage Bonneville, a Harley, a customised Ducati or even just enjoy the thrill of being a pillion. Whatever they ride and whoever you know, this is a message we all need to get out there, keeping our friends from harm. Thank you.
You can follow the Spokes campaign on Instagram to see all the amazing goings on of the big MotoGP day at @spokesrides #Spokes