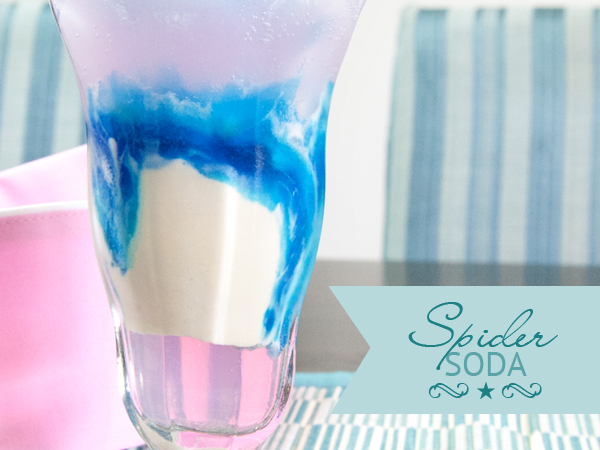 If you're ever going to make a super simple yet impressive dessert, that satisfies both kids and adults alike – make a spider (also known as ice-cream soda and soda float). The only noise we hear at the table when spiders have been served (after the initial ooo's and ahhh's) is the tinking sound of spoons hitting the glass and slurping through straws.
I learned the craft of making spiders when I worked at Johnny Rockets (now called Soda Rock) in South Yarra. There was a particular method in making these, to make sure they were well presented. Sure it's easy to plop a ball of ice-cream into a glass of soda, watch it fizz over and mix up into a creamy mess – but it's just that, a mess to look at.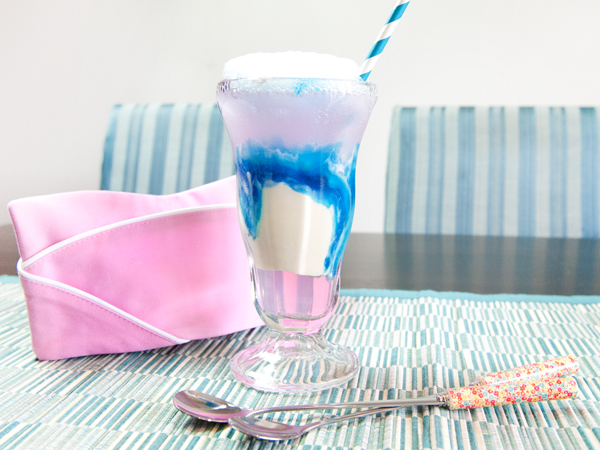 There's an art to the layering of a spider, and you can create any flavour/colour combination you can think of (or be brave to try!)
Now, I'm not sure if I made up the addition of adding flavoured syrups to the spider, or if it was something that only us staff members were experimenting with – but it's an addition worth keeping, both for extra flavour and colour.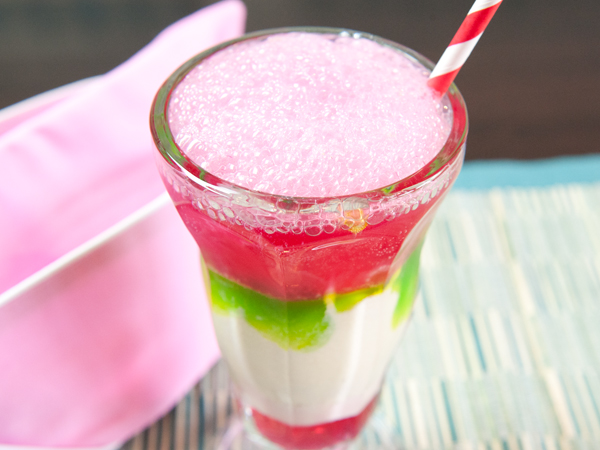 Spider / Ice-cream Soda Recipe
Ingredients:
Vanilla ice-cream
Flavoured soda of choice
Flavoured syrup of choice
Classic milkshake style glass
Paper straw
Long spoon
Method:
1. Pour about 2cm of soda into the glass.
2. Scoop a large ball of ice-cream into the glass, big enough so it sits on the edges and doesn't slip down into the base layer of soda. Ideally, you will have a 1-2cm layer of air in between the soda and the ice-cream.
3. Pour the syrup around the edges, just enough so you can see the syrup as a thin layer.
4. Top with more soda, but be careful not to fill to the top too quickly, otherwise it will overflow like a volcano!
Flavour combination ideas:
1. Jaffa – Orange soda and chocolate syrup
2. Candy Candy – Pink lemonade & blue heaven syrup
3. Citrus Tingle – Lemon squash & lime syrup
4. Strawberry & Cream – Lemonade & strawberry syrup
5. Tropicana – Passionfruit soda & lime syrup
6. Jingle Bells – Lime soda & raspberry syrup
7. Red, White & Blue – Raspberry soda & blue heaven syrup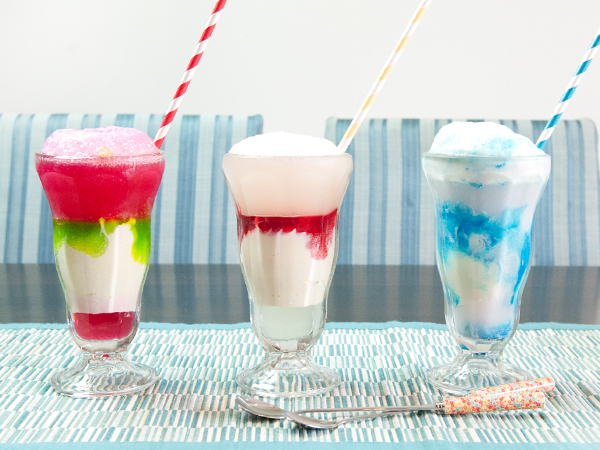 As you can see, anything goes! Have some fun making your own combinations, and if you have a super delicious combination you have tried, make sure you share it below.
Soon I will share some grown-up only versions, once I finish experimenting with Kahlua, Creme de Cacao, Butterscotch Schnapps and Malibu, just to name a few.
Note: I think only Australian's call them spiders. So be aware when you Google image search for inspiration, especially if you are arachnophobic. Try searching for ice-cream soda instead!
Styling notes:
Long spoon – Daiso
Glassware – Kitchenware Direct
Paper straws – Mozi