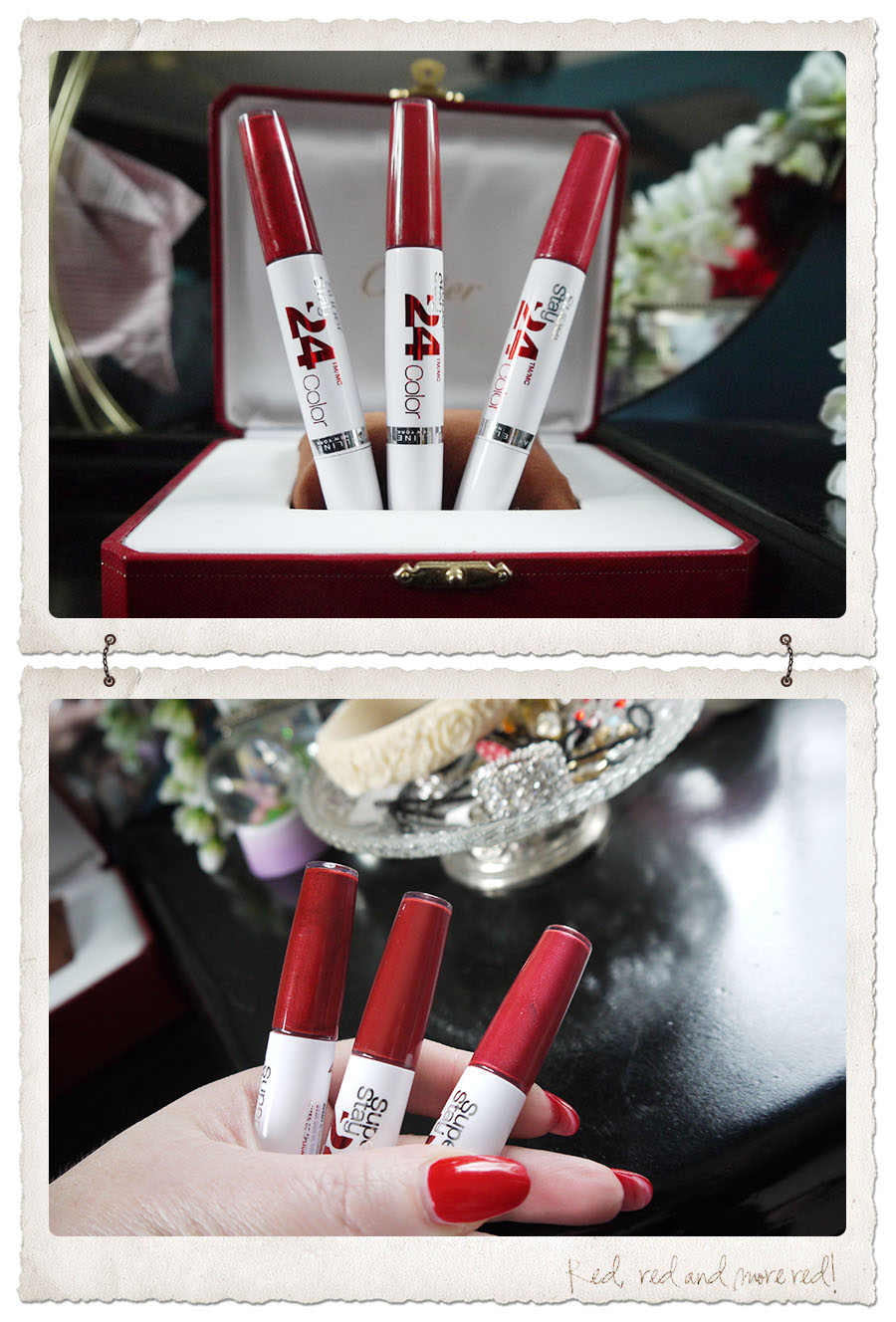 Are you always on the hunt for a stay on lipstick that actually works? How to get your lipstick to stay on is one of my most frequently asked questions, and unfortunately there is only so much you can do short of tattooing your lips. My everyday tips for wearing red lipstick will help you to a degree, but serious staying power? I always thought that was the realm of fantasy. Until I tried this stuff.
In my eternal quest to try all the red lipsticks on the market (how full are my bathrooms cupboards?!), the minute I saw these new Maybelline Super Stay 24 hour Colour advertised I wanted to put it to the test.  My test came in two parts, as I didn't want to invest the money off the cuff on the very slim chance it may actually work, so this is what I did.
FRIDAY
1.00pm- Wander into Target (also available at Priceline and on sale at the moment I think) and start casing the joint to uncover this new lipcolour.
1.05pm- Get distracted by liquid liners before remembering again why I was there.
1.15pm – Find the VM stand for the new Maybelline lipcolour and am amazed at the huge number of colours on offer. Which red do I want?
1.20pm – decide that before picking a colour, I should give this a proper hard core trial.  So I paint a slash onto the heel of my hand, following the instructions and waiting for it to dry. this ought to be good given how many times a day I wash my hands. I wonder if it will last more than the next three hours.
6.00pm – Am marvelling to my girls that the lip colour is STILL there! What kind of thing is this?
SATURDAY
9.00am – It's even lasted the night without any fading.  Okay then you stubborn stuff, here's a real test.
11.00am – Clean the whole house, including bathrooms without gloves on.
3.00pm – Beer and wonderment.. and also a bit of a worry.  The lipstick is still there, clean and bright; what the hell is in this stuff??
After such a  vigorous non facial test, I decided to give it a go and see how it lasted through eating, drinking, greasy foods and the ultimate pash.  AND IT DOES!!
Here's the thing though, none of these stay on lipsticks are going to remain highly moisture filled, so you do need to keep applying a balm over the top.  When you apply it, you need to paint it on carefully with your lips somewhat stretched so they are flat.  Then you have to wait about 4 minutes for it to dry and stop being sticky before applying the balm.  The feeling is a little odd, like there is a bit of a barrier between you and the world, but for the results it is worth it.
While it doesn't dry out and crack like others I've tried, if you don't apply the balm, there is a tendency to chew at your lips if it gets too dry and that will simply peel the colour off. But if you can avoid doing this, you will actually have lips that last overnight! And it really doesn't smear, smudge or kiss off!
So as you can see this was a big winner for me, so much so that I bought three different reds, each fabulous!
Keep Up The Flame – A non shimmery red with an almost warm hue.
Reliable Raspberry – A more hot pink version of red.
All Day Cherry– My fast favourite with a touch of shimmer and a rich blue red, cherry hue.
(Shown in the image holding them left to right – Cherry, Flame, Raspberry. Wearing All Day Cherry.)
Verdict – At around $21.00 these are definitely worth the money and something you should have handy for big nights out or gastronomic adventures when you need to look your best.