I love shoes. And I love shopping. But put these two together and it often results in a heck of a lot of post shopping complaints, tired legs and a box of pain killers.
Yes, I have been told to wear sensible shoes, but its tough when there are so many beautiful ones on offer.  I am adding to my collection of more flat-ish shoes, but nothing beats the wiggle inducing stiletto for me.  The problem is that you pay for it.
I have arthritis in my knees and suffer from edema.
Without a doubt, the OSIM uSqueeze has made a monumental difference to the amount of pain and swelling I suffer from.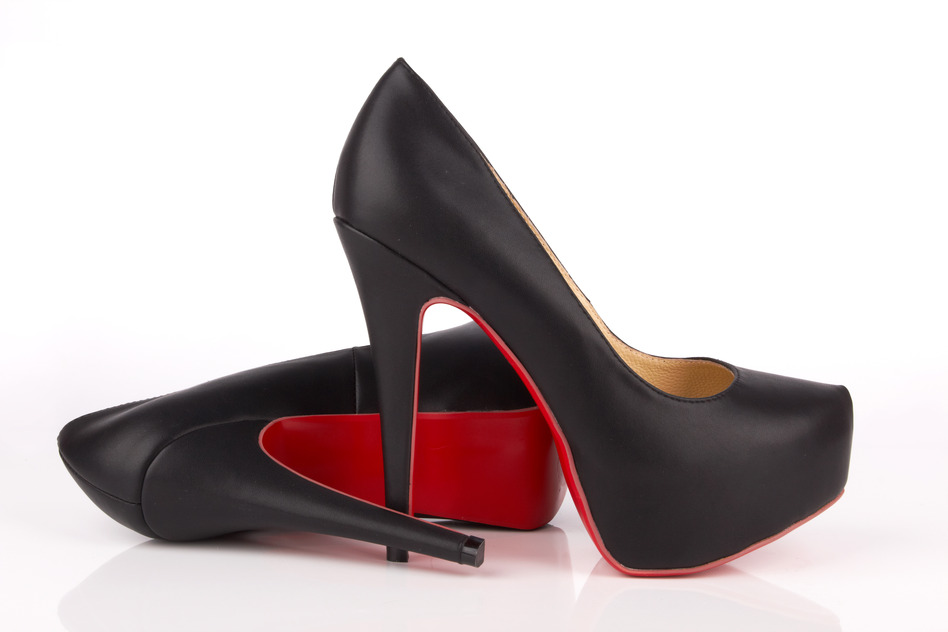 I've been trying all sorts of things to help my legs return to their normal selves after a big night out; foot spas, hot towel wraps, even lying with my feet up the wall at 3am after a particularly big night out. None of this has been working very well really, but I the OSIM uSqueeze does such an incredible job the the swelling is almost gone after only 20 minutes!
You'll remember last month as part of Relaxation August, OSIM sent me a special something to help take away the Hunchback of Notre Dame cramps in my shoulders? This time they suggested a solution for my legs and feet that I just couldn't resist – the uSqueeze Warm.
This arrived in a great big box on my front doorstep, (which has also proven to be a very handy children's play thing) and promptly found a home in my living room.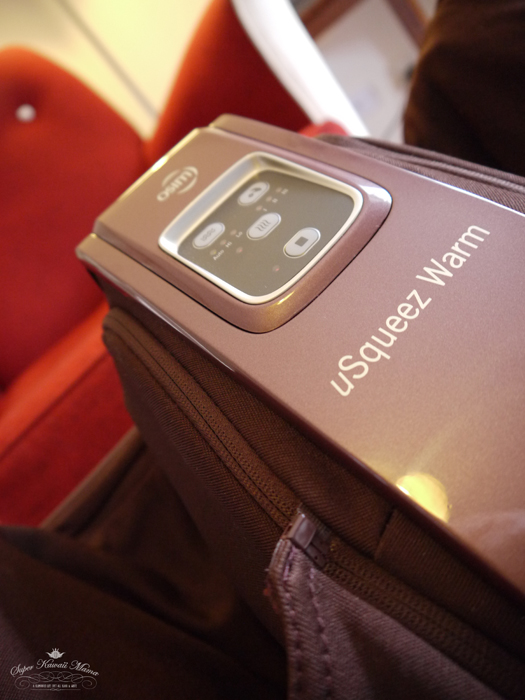 First off I have to say how awesome is it that this model matches my living room furniture?! And given that my furniture is retro-tastic, what are the odds?  Anyway, this heavenly piece of kit is a deep red leather with a sort of pouch arrangement at the front to slide your aching feet and legs into. Like so…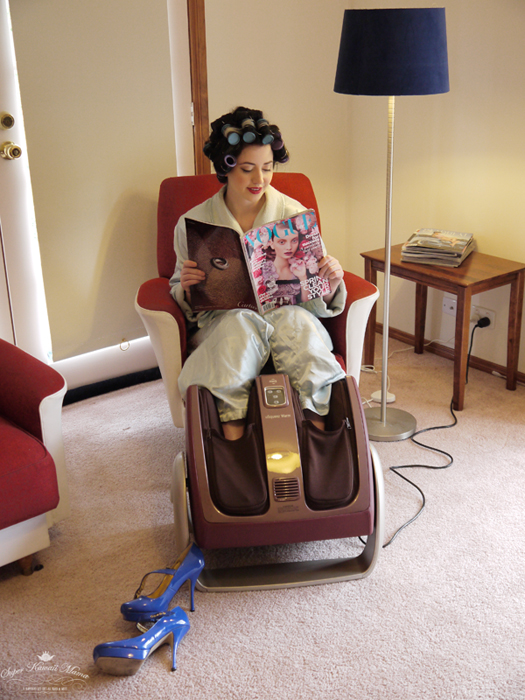 Yes, I am in my pyjamas and rollers. This is a proper relaxation effort here.
It has a few simple selections which create a vibration, heat and the most intense massaging rollers you've ever felt!  Seriously, this is no fairy fingered machine, this is the business. The rollers actually roll and squeeze the entire tops and bottoms of your feet, while another set of rollers squeeze and roll the length of your calves.
It focuses on muscles and pressure points, working them in a kneading motion helping improve lymphatic drainage. The warming feature is so toasty and snug it is even better than having the puppies sit on my feet.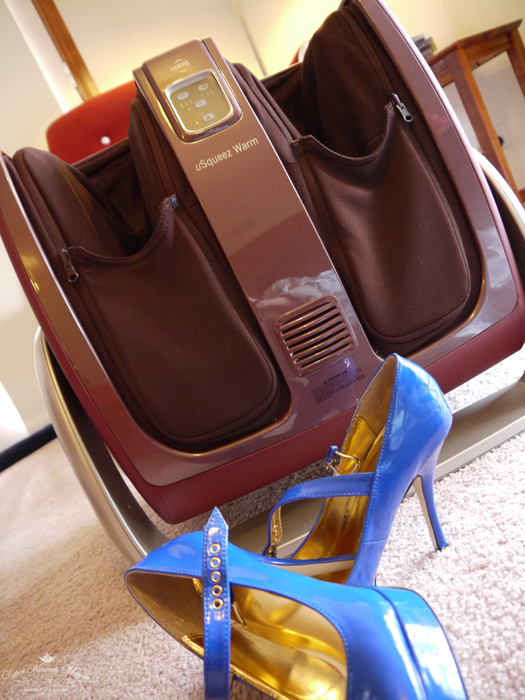 The inside bit where your legs go is a fabric cover that can come off for washing, and opens up with a zipper if you just want to put your feet in and not your whole legs. The whole unit can tilt to different angles depending on how you want to sit, what part of your legs you want to concentrate on, or even tilt all the way around to be a foot rest when it isn't in use.
But warning – this could very well send you straight to sleep!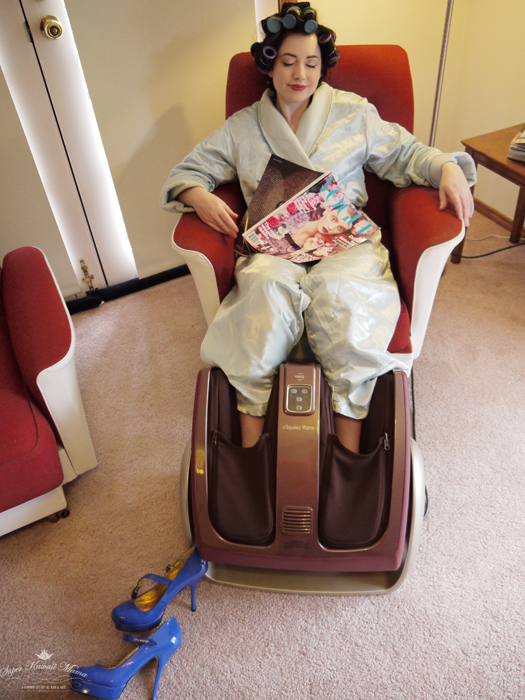 Total bliss….
Knowing how much I enjoyed this, and just how many of you are also shopaholic shoe fiends, OSIM has kindly offered to give a special exclusive 10% discount to all our readers yet again!
And do you know what else… after the uPapa hug was such a hit with you, they have offered one of these uSqueeze Warm machines to give away to you too! (Seriously, I'm amazed how much cool stuff I can share with you, it's the best!)
So here is what you need to do:
GO – to the OSIM site and register your details to enter the draw
WRITE – me a comment with a link to a picture of your favourite shoes (they don't have to actually belong to you, they can just be wish list shoes)
You have until Friday 1st October to register!
And while we're talking about winning cool stuff,  CONGRATULATIONS to Bianca Gaetani who has her very own uPapa Hug turning up any day now!
** THIS CONTEST IS NOW CLOSED**