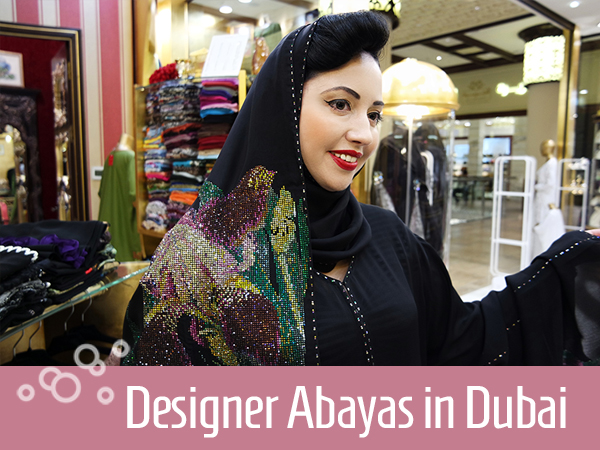 I discovered many things during my holiday in Dubai, but none more amazing and thrilling to me than what I learnt about their culture through the language of fashion.
Generally speaking, the West has a very uninformed view of Middle Eastern fashion, what it is and all the hidden secrets. My education began in a most unexpected way.
One afternoon while wandering The Dubai Mall alone, I took myself on a mission to capture the beautiful fabrics and finishes of the pieces I'd seen in the windows of the Souk. Incredible colours, fine embroidery and jewelled hems all called my name. I had very much wanted to purchase an Abaya on my trip, but after seeing these jewels, I was a little afraid to look at the price tags. So I stayed at arms length, appreciating from outside the glass.
As I wandered along, a well-dressed young man smiled at me from the doorway of one of the more opulent stores, "Please come in, have a look around." I almost shook my head but tentatively stepped inside, a bright and gleaming countertop catching my eye. This was no ordinary store. Like being dropped into a museum gallery, I realised at once that what I could see was something extraordinary. True artisan works of the highest quality, showcased like a medieval tapestry.
Eager to demonstrate their wares, he began to remove the fabric piece by piece, placing it softly on the countertop. He could see I was hesitant to touch the pieces and immediately started to drape them over my shoulders with, "please, see the quality of this stitching. Each piece is unique and takes over two years to complete."
Stunning, utterly stunning. The weight of the fine silk, the hand rolled hem, the carefully selected colour variations giving depth and life to the motifs. I began to exclaim at their beauty and compare fabric weights, asking questions as I went along. We looked at each other and realised that the other had a true appreciation for the skill in these pieces; he offered to dress me in the full ensemble.